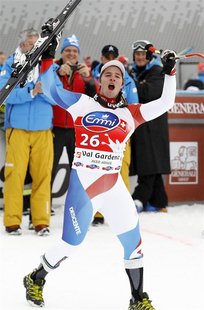 By Manuele Lang
VAL GARDENA, Italy (Reuters) - Switzerland's Beat Feuz took advantage of a lowered start to beat his idol Bode Miller to victory in an Alpine ski World Cup super-G race on Friday.
After three podium places in the North American swing of the season, Feuz mastered the shortened Saslong piste in one minute 21.51 seconds for the second World Cup win of his career.
Feuz, who won a downhill in Kvitfjell in March, started with bib number 26 and dislodged American Miller from the top spot by half a minute.
"It's a very special victory as I won ahead of Bode who was always my idol," said Feuz, 24.
Miller won his first World Cup race for more than three years in the Beaver Creek downhill two weeks ago, but a decision by the organizers to lower Friday's start by 250 meters because of poor visibility handicapped speed specialists such as the American.
Fast-improving Norwegian Kjetil Jansrud was third, a further 0.15 seconds behind and ahead of team mate Aksel Lund Svindal.
"I watched the others go down and I tried to understand why the gaps were increasing behind Bode," said Feuz. "I just tried to ski as best as I know and it's a bit of a surprise to me."
Miller, however, was not surprised by Feuz's good showing, saying: "We saw him coming, he's not a surprise.
"I can't be disappointed even though I did not ski the perfect race," the American added. "The start being cut off did not work in my favor. It was my little bonus to have a hard start on which you can build up speed."
Svindal, the specialty's Olympic champion, leads the overall World Cup standings on 384 points, 24 more than second-placed Feuz.
Heavy snow and gale-force winds are forecast for Saturday, when Val Gardena is due to host a downhill race.