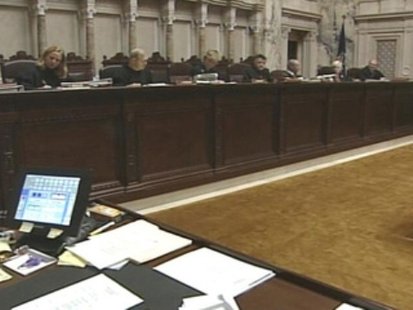 MADISON, WI (WTAQ) - The Dane County District Attorney says he might ask the State Supreme Court to reconsider his challenge to Wisconsin's collective bargaining limits -- this time, without input from Justice Michael Gableman.
Ismael Ozanne said he's taking a hard look at asking Gableman to recuse himself, after reports that the justice took free legal services from a law firm in defending an earlier ethics case.
The law firm is the same one that helped Governor Scott Walker's office develop the union law. And Gableman voted in June to uphold that law.
The State Judicial Commission was asked this week to investigate whether Gableman broke the judicial ethics code by voting on cases in which he had a direct financial interest with one of the parties -- namely, the law firm of Michael Best and Friedrich.
Ozanne says he does not have all the facts yet in deciding whether to seek a re-opening of the collective bargaining case. But he said the facts he had are, "concerning."
Even if Gableman withdraws, another justice would have to change his or her vote -- or else there would be a 3-3 deadlock, and the court would not consider the case.
Gableman voted with a 4-3 majority in June against Ozanne's allegation that Republican legislators broke the state Open Meetings Law when it passed the union bargaining limits in March.
A recent court hearing said the court cannot force a member to withdraw from a case -- which means Gableman would have to do it voluntarily if the DA asks.