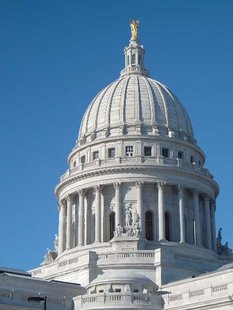 MADISON, Wis. (WTAQ) - The state Legislature's Joint Finance Committee will hold a public hearing Tuesday on the governor's cutbacks for public employee unions.
Lawmakers might vote later this week on the measure, which is part of Republican Governor Scott Walker's plans to cover a deficit in the current state budget.
Union workers staged protests Sunday at the State Capitol, the Governor's Mansion, and the home of Assembly Speaker Jeff Fitzgerald in Horicon. And the state AFL CIO began a TV and radio ad campaign asking people to call the legislators to stop the measure.
They said politicians will, "take away rights of thousands of nurses, teachers, and other trusted public employees" with almost no debate or public discussion.
Walker has said everybody should have known this was coming, after last year's campaign. His spokesman Cullen Werwie said what Walker is doing is fair – and he said workers in the private sector have suffered from pay cuts and job losses a lot more than Walker is asking of most public unions.
State workers take issue. They say they make smaller salaries than similar employees in the private sector – and they've also had unpaid furloughs in the last two years.
More protests are planned this week. About 150 people showed up Sunday at the Capitol, where Mike Vanden Brook dressed as a dying patient to dispute Walker's claim that people must have been "in a coma" if they didn't see what was coming.
Vanden Brook, a psychologist at the Oakhill Correctional Institution south of Madison, said he's willing to help reduce the state's budget deficit and take some cuts – but he was upset that the employees were never included in Walker's decisions.
The Republican governor said public unions should only bargain for their wages, and nothing more than inflation unless voters approve more in a referendum. He also wants to make them pay more for their health insurance and pensions.
About 100 people protested at the Governor's Mansion. Union carpenter Sandy Thistle said there are a handful of Republican lawmakers who could be influenced by the protestors. She said union wages raise the pay for everybody else, and they prop up the state's economy.
In Horicon, over 100 union workers marched through the downtown before converging on the Assembly Speaker's house. Jeff Fitzgerald wasn't home at the time. He later issued a statement that Wisconsin is out of money – and the union workers are being asked to tighten their belts just like other families have had to do.