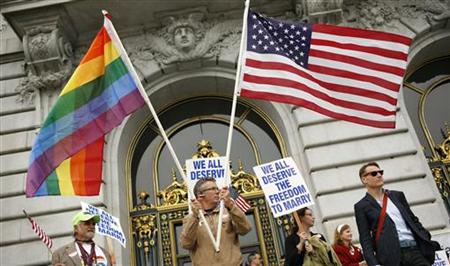 SAN FRANCISCO (Reuters) - The California Supreme Court waded back into the gay marriage debate on Wednesday, adding about a year's delay to a landmark case by agreeing to give guidance to federal judges considering the matter.
A California ban on gay marriage is the center of the federal case and one of several judicial and political battles over same-sex marriage, which is banned in most of the nation and legal in the District of Columbia and five states -- Connecticut, Massachusetts, Iowa, New Hampshire and Vermont.
The California Supreme Court opened the way to same-sex weddings in the state in 2008, but voters months later approved a ban on gay marriage, called Proposition 8, and the matter has been winding its way through the courts.
It is expected eventually to be appealed to the U.S. Supreme Court, which would set national policy if it agreed to hear the case.
Last year, a federal district court ruled the ban was unconstitutional, but that ruling is on hold while the current appeal by supporters of the gay marriage ban is considered.
The 9th U.S. Circuit Court of Appeals asked the California Supreme Court last month to weigh in on whether Prop 8 supporters had the authority under state law to defend a ballot measure when public officials refuse to do so.
Then-Attorney General and now Governor Jerry Brown declined to sign on to the Prop 8 appeal. Then-Governor Arnold Schwarzenegger took the same stance.
On Wednesday, the California Supreme Court decided unanimously to decide the question, saying oral arguments could be heard as soon as September. The court has 90 days after oral arguments to issue an opinion. Initial briefs are due in mid-March.
After the California top court issues its decision, the case will go back to the federal appeals court.
The case in the California Supreme Court is Perry v. Schwarzenegger, S189476.
(Reporting by Peter Henderson and Dan Levine; Editing by Peter Cooney)