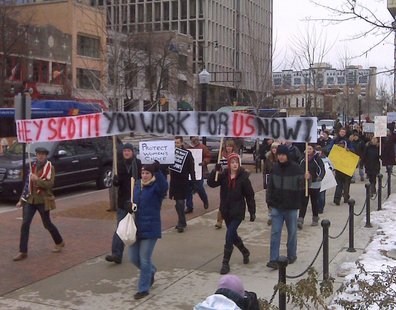 MADISON (WRN) Milwaukee's unemployed were out in force outside Governor Scott Walker's inaugural Monday.
Milwaukee Area Labor Council Secretary Treasurer Sheila Cochrane said that rally was held in solidarity with the unemployed around the state – including those who could have been put to work on the high speed rail rejected by Walker. "I think it's an absolute travesty that the man who is about to take the governorship of the state of Wisconsin would find victory in giving away $810 million," said Cochrane.
Some 300 unemployed Milwaukee residents traveled by bus to the Capitol to – as Cochrane said – hold Walker accountable on his promise to create 250,000 jobs. "He says that the state of Wisconsin is open for business. I want him to know that we mean business, and that those 250,000 jobs, no matter how he thinks he's going to do them, are going to be the types of jobs that we're going to have a voice in." Protesters marched peacefully around the Capitol. The rally was over by the time the inaugural ceremony began in the rotunda.