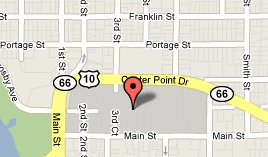 STEVENS POINT, Wis. (WSAU) – Stevens Point residents have a chance to weigh in tonight on a proposal to purchase Centerpoint Mall and renovate it for Midstate Technical College.
The city will be holding a public input session on the project tonight at the Lincoln Center on Water Street. The city's plan is to turn one half of the mall into the new campus location for MSTC. Mayor Andrew Halverson says tonight's meeting will focus on what do do with the rest of the mall. "We've heard a number of ideas, knock it down, open it for business, put it towards other applications."
Halverson says the goal is not to continue owning the rest of the property. "The city of Stevens Point does not want to get into the business of running a mall." He says his end goal of the project would be to turn the rest of that property over to private use so Iit can get back onto the city's tax roll.
Tonight's meeting starts at 5 PM. The $5.9 million referendum on the project comes up for a vote February 15th.