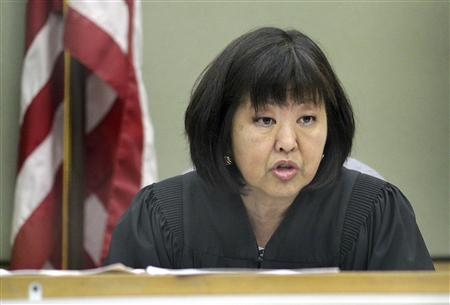 By Laura Myers
SEATTLE (Reuters) - A judge ordered a Seattle man now in a local hospital held without bond on Saturday after his arrest in connection with the disappearance and death of a 7-year-old girl from a town in Illinois 54 years ago.
At a brief hearing, King County District Court Judge Eileen Kato said she found "probable cause" to detain Jack Daniel McCullough, now 71, and set a bail hearing for Monday.
The judge said McCullough, a former police officer who did not attend the hearing, was at Harborview Medical Center in Seattle. His illness was not disclosed.
McCullough was arrested in Seattle in connection with the disappearance of Maria Ridulph, who was last seen playing with a friend near their homes in Sycamore, Illinois on December 3, 1957, according to a statement of probable cause posted on the Seattle Times website.
Her decomposed body was found on April 26, 1958, in Jo Daviess County, Illinois.
McCullough was a teenager at the time of the disappearance and had been a suspect in the crime, but had an alibi and was never charged. McCullough has also used the name John Tessier.
According to the probable cause statement, Ridulph's playmate at the time of her disappearance reported that a man named "Johnny" had approached the girls as they were playing and asked if they wanted piggyback rides.
Later, the friend went home to get her mittens. When she came back, Ridulph and the man were both gone, the statement said. It added that investigators tracked down Ridulph's friend last year, and she picked McCullough's photo out of a montage.
"To the best of my memory and recollection of that night, that's him," the statement quotes Cathy Sigman, in her sixties, as saying.
MCCULLOUGH HAD ALIBI
McCullough always insisted that he had been on a train from Rockford to Chicago and could not have abducted Ridulph.
But a former girlfriend told authorities last year she had seen the train ticket and it was not used. The tip prompted police to continue the investigation, which led them to McCullough, the Chicago Tribune said.
The probable cause statement said McCullough joined the Air Force shortly after the disappearance, and then served in the Army at Fort Lewis.
McCullough later worked for the Lacy and Milton police departments in Washington state, the statement said. It added he was fired from the police after pleading guilty to an unlawful communication charge following accusations he had sex with a 13- or 14-year-old runaway girl in 1983.
Four family members of McCullough, including two stepdaughters whose names were not available, niece Jennifer Howton and another niece also not named, each casually dressed, attended the hearing on Saturday. They did not speak in court although one did briefly speak with a television journalist.
Outside the courtroom, a man who had accompanied the family in court and identified himself as a boyfriend of one of the stepdaughters told reporters that McCullough had triple bypass surgery a few years ago.
"He's looking at losing everything," the man said, adding that he did not think police had the evidence to convict him. McCullough was arrested on Wednesday afternoon and booked into King County jail early on Thursday, he said.
The state of Illinois was seeking a $3 million bond although McCullough was currently being held as a fugitive on a "no bail hold," Denny Behrend, the Seattle bail bondsman, told Reuters.
McCullough has been married for about 20 years and has three grandchildren, the family friend said. More recently, he worked as a night security guard at a Seattle area retirement complex, he said.
The family friend said he thought the person who tipped off police to McCullough "is an estranged wife who hates his guts. It's someone he's had a relationship with for a long time."
It is unusual for a case so old to be revived, especially without evidence such as DNA uncovered through forensic techniques not available a half century ago.
(Editing by Greg McCune and Cynthia Johnston)