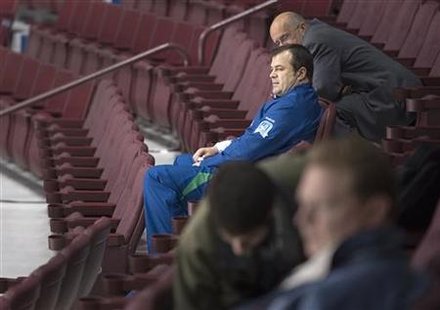 By Allan Dowd
VANCOUVER (Reuters) - Coaches Alain Vigneault and Claude Julien keep in regular contact, but do not expect them to exchange any phone calls until it is decide which man will hoist the NHL's Stanley Cup in victory.
Vigneault hopes his Vancouver Canucks will do it for the first time the franchise's 40-year history. Julien hopes this is the year his Boston Bruins end a cup drought that has lasted since 1972.
The teams open their best-of-seven series on Wednesday.
Vigneault and Julien were teammates in the minor leagues in Salt Lake City, Utah, and made similar climbs through the coaching ranks - including stops behind the NHL bench in Montreal.
"We go way back... and we've kind of built a friendship throughout those years," Julien said.
"I've known Claude a long time. We both know what coaches go through on a daily basis and a yearly basis, so he can relate me and I can relate to him," Vigneault said.
Julien has coached Boston since 2007 and overseen a steady improvement in the storied franchise. Vigneault took Vancouver's helm in 2006 and saw it them win the President's Trophy this year with the NHL's best regular season record.
But both Boston and Vancouver have stumbled in recent playoffs, and faced with high expectations it is likely both coaches could have lost their jobs if they had failed to make it to the championship round this year.
"I think this year more than any we were very supportive of each other knowing the demands of both organizations, I know during the playoffs we were both kind of encouraging each other," Julien said.
"We both knew we had good teams and we both knew we had to win," Vigneault said.
That was especially true in the first round of the playoffs when each team faced its arch-nemesis and both saw the series stretched to a do-or-die seventh game. Vancouver eventually beat Chicago and Boston triumphed over Montreal.
Now it is down to the wire for the NHL's ultimate prize and the mutual-support club has to be disbanded, at least for a few weeks.
"Now that we've made it here we've both gone silent and don't plan on talking to each other until it is over," Julien said.
(Reporting Allan Dowd, Editing by Tony Jimenez)