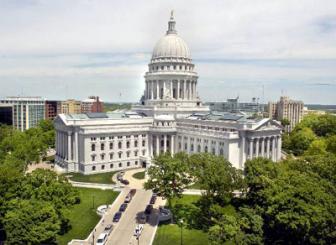 MADISON -- The Wisconsin Assembly never started its debate on the new state budget yesterday, because Majority Republicans could not agree on the final details. G-O-P lawmakers met privately for over 10 hours. And they decided late last night to hold up the debate until today.
Speaker Jeff Fitzgerald said a "ton of stuff" had been considered for possible changes. Among other things, they want to make sure the state does not lose $47-million in transit aid because of the new union bargaining limits upheld by the Supreme Court yesterday. And they expect to roll back a last-minute Finance Committee decision to return $37-million in federal funds to expand high-speed Internet service to rural areas. That same measure would also prevent the U-W from taking part in the Wisc-Net service for public schools and libraries, because it competes with another group.
Other possible changes have not been disclosed for the two-year, $66-billion budget. The secret discussions took place while an estimated 2500 budget protestors gathered at the Capitol. The state's largest teachers' union and the A-F-L C-I-O held a late afternoon rally. About 100 protestors stuck around until late last night, when lawmakers decided to call it a day. Capitol Police report three arrests – two for possessing drug paraphernalia, and one for disorderly conduct.