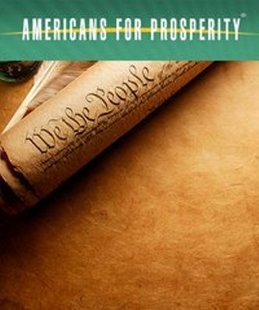 MADISON (WSAU) A four-day bus tour to support Governor Scott Walker ended yesterday in Madison. About 600 people attended a rally put on by the Americans for Prosperity. Samuel Wurzelbacher – better known as "Joe the Plumber" – said union workers are acting out of fear as they protest Walker's budget restrictions. "Joe the Plumber" gained fame by challenging President Obama's tax policies to his face in 2008. He said it was new to union workers not to quote, "have a guarantee in life."
The number of protestors outside the rally out-numbered those inside. Matt Seaholm of the Americans for Prosperity said it didn't surprise him, because it's Madison. He said the rally was the largest among the 10 cities on the group's bus tour.
Meanwhile, thousands continued to protest at the State Capitol. But the crowds were smaller than the estimated 30,000 on Saturday, when liberal film-maker Michael Moore showed up. It was the postal union's turn to show its displeasure over the G-O-P's policies. Buses from nearby states brought in members of the National Association of Letter Carriers on their day off. Postal union leader Nicole Ryan of Lincoln Nebraska said there's quote, "no greater force for fairness, dignity, and equality in the work-place than a union." She said a fight for unions is a fight for all Americans.