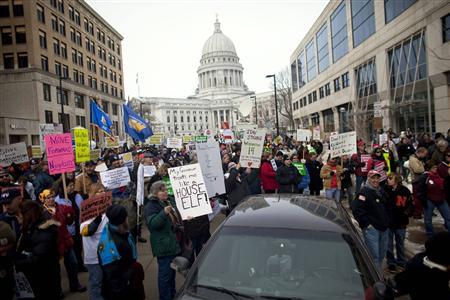 MADISON, Wis. (WTAQ) - Some of the 14 Wisconsin Senate Democrats who skipped out of Wisconsin for three weeks to hold up a vote on the union bargaining cutbacks will appear at a rally at the Capitol Saturday.
Bob Jauch of Poplar said Thursday that he'd be there. And Friday, Milwaukee Senator Chris Larson said he and his other colleagues wanted to thank the demonstrators who rallied for a month to try and stop the bill Governor Scott Walker signed into law Friday.
The senators plan to hold a news conference Friday morning, and then speak to the rally around noon. Several unions are putting it on.
Larson said his group would encourage the demonstrators to step up recall efforts against 8 Republican senators for their vote on the bill. 6 Democrats also face recall attempts over their absence – but the Democrats still believe they could gain at least three seats in this summer's recall elections, and win back the majority in the Senate.
Friday, Conover Democrat Jim Holperin said he was back home, and had attended a pro-union rally in his northern Wisconsin district.