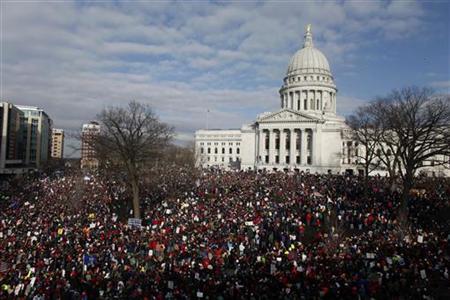 MILWAUKEE (Reuters) - The legal challenge to the new Wisconsin law that curbs the union rights of public workers moved forward on Wednesday with the filing of a formal complaint against the Republican lawmakers who steered the bill through the legislature.
In a court action filed in the state capital of Madison, Ismael Ozanne, the district attorney for Dane County, claims a key meeting of top Republican lawmakers from the Assembly and Senate prior to the bill's passage last week violated Wisconsin's open meetings law.
During that meeting of the so-called joint conference committee, the Republicans, who supported the anti-union measure, separated it from the budget repair bill it had been attached to.
That maneuver allowed the Republican-majority Senate, which had been stymied for weeks after its 14 Democratic members fled to Illinois to delay action on the measure, to quickly pass it without a quorum.
Ozanne claims the joint conference committee meeting took place with less than two hours notice, in violation of state law and the legislature's own rules. He wants the state court to declare the anti-union measure the two houses subsequently passed, and that Republican Gov. Scott Walker signed into law, "void."
Peter Barca, the only Democratic legislator allowed to attend the joint conference committee meeting, said he was "grateful" that Ozanne had filed the complaint and criticized "the way the public has been shut out of this debate time after time."
A spokesman for Scott Fitzgerald, the top Republican in the state Senate, called the complaint a predictable turn of events and said "we are fully confident that it's going to be found that we followed all the laws to a 'T'.. that there was nothing improper."
(Writing by James B. Kelleher; Additional Reporting by John Rondy; Editing by Greg McCune)