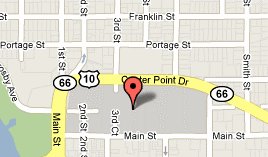 STEVENS POINT, Wis (WSAU) The owner of the CenterPoint Marketplace Mall says talks to sell the property to Stevens Point have hit a snag. Owner Valley Bank says they're preparing to list the property for sale or lease to other parties.
Earlier this week the city council approved $5.9-million in bonding to relocate Mid-State Technical College to the mall property. The plan called for the center part of the mall to be demolished.
The mall, which went into foreclosure last year, is now owned bank-owned. A vice president says a closing time for the sale was set for 11-30 yesterday morning. The V-P says the city council tried to change the contingencies for the deal, and wanted to push back the closing date. The bank said it would not discuss the purchase price, and would not re-open negotiations with the city.
Mayor Andrew Halverson said the seller is being unreasonable.