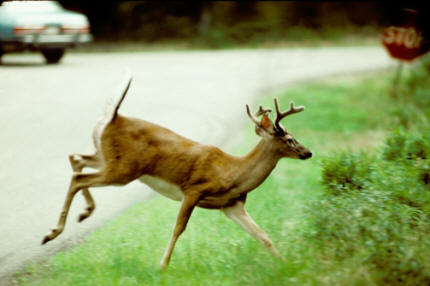 UNDATED (WSAU) Wisconsin drivers struck 17-percent fewer deer in 2010 than they did a decade earlier. According to preliminary D-O-T figures, just under 17,000 car-deer crashes were reported in the Badger State last year. That's about 600 more accidents than in 2009. But it's well below the nearly 20,500 deer mishaps reported in 2000.
The Gannett Company's Wisconsin newspapers analyzed the data as part of a series of stories they've published on the state's deer management policies. State Patrol Major Dan Lonsdorf said the recession and high gas prices are resulting in fewer people on the roads. And that's how he explains the drop in deer mishaps.
The lowest number of car-deer crashes during the last decade was in 2008, when the recession told hold and Wisconsinites just started feeling the effects of the financial industry's collapse. The papers also cited a survey by State Farm Insurance. It says Wisconsin drivers have a 1-in-96 chance of hitting a deer this year. That's the eighth-highest ratio in the country.