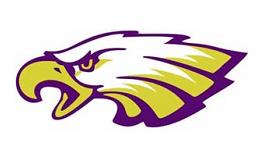 SCHOOLCRAFT, MI (WHTC News) - The team that was in a no-win situation two weeks ago celebrated a state high school boys' basketball title last night.
About 500 people filed into Schoolcraft High's gym to honor the Class C titlists, who brought the championship trophy to the southern Kalamazoo County community with Saturday's 73-59 victory over McBain at the Breslin Center in East Lansing. There was some sense of redemption, for the Eagles lost in the finals two years ago to Melvindale ABT, only to see their opponent be stripped of the title due to using an ineligible player, leaving the crown vacant.
Among the 27 victims during Schoolcraft's undefeated season was Fennville, whom the Eagles defeated in a regional semifinal two weeks ago, 86-62. The game at Vicksburg was played under a media spotlight due to the sudden death of Blackhawks' star Wes Leonard from a heart attack on the court 11 days earlier.
During last night's rally, Schoolcraft AD Ted Manning made mention of that contest, saying that he was proud of the way the team and their fans conducted themselves during that night in supporting the Fennville team in its time of intense emotions.