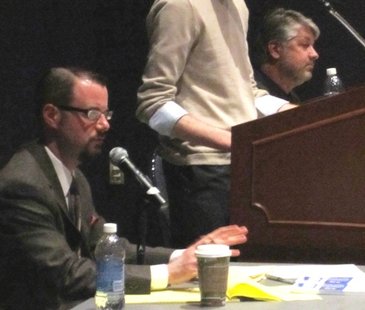 STEVENS POINT, Wis. (WSAU) – Stevens Point Mayor Andrew Halverson defended his first term in office, telling voters he is ready to seek out controversy.
"Ultimately you see a track record of things we've gotten done," Halverson told a crowd of students and area residents in a 90-minute debate at the university sponsored by the student government association.
Halverson cited his success in keeping Travel Guard in the city, providing the loan that helped Spectra Paint expand and hire 40 new employees and facilitate the land acquisition that will help Marshfield Clinic build a new state-of-the-art facility.
"That economic development and that jobs creation post graduation is vital because we want them to stay in our community," he said.
But Halverson's challenger, alderman Mike Wiza, said the mayor is driven too much by special interests and has let spending get out of control.
"I consider myself very different from the mayor in that I encourage open, honest communication," Wiza said. A City Council member since 2004, Wiza cited his success in creating the city's first dog park and building a new skate park.
"I want to do the mayor's job so I can take that thing I have close to my heart and make it better," he said.
Both candidates said more can be done to raise awareness about a late night bus and other transportation and cultural options that exist for students in the community. They said a solid working relationship with the university is key to the city's growth.
"We have to be able to work through those challenges...and make sure that neighborhoods are preserved and the needs of our community are met," Halverson said.
On the Web:
Mayor Andrew Halverson's campaign Web site
Alderman Mike Wiza's campaign Web site