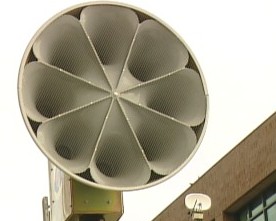 MERRILL, Wis. (WSAU) - Merrill will re-bid plans to install two new emergency warning sirens.
The City Council agreed Tuesday to have city staff solicit new bids for the project after only one company responded to the request for proposals last month.
The proposal from Milwaukee-based Systems Technologies, which would have replaced three existing sirens with two new ones for around for around $50,000, came in over budget, said Council president Steve Hass.
"We need to pick the right one for the safety of the community," Hass said, adding that he had received word over the lunch hour Tuesday from two other companies interested in the bid. Hass also said the sirens the city is looking at can be heard further away than the existing ones.
The Council had put $40,000 for the upgrade in its 2011 budget because it could no longer get replacement parts for its existing sirens. So Tuesday's vote on the one-month anniversary of a tornado that struck the city was purely coincidental.