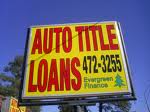 MADISON (WSAU) Wisconsinites could again put up their vehicles as collateral to get loans under a budget measure endorsed yesterday by the Joint Finance Committee. The vote was 11-to-5, with one Republican joining the four Democrats in voting no.
Former Governor Jim Doyle used his line-item veto power to create the current ban on auto title loans last year. It's part of a new law which regulates pay-day loans in Wisconsin, and it's been in effect since January. There was no debate on the subject.
Also yesterday, the finance committee approved an extra fiv$5-million to keep the state Veterans' Trust Fund afloat for at least the next two years. It provides grants-and-loans to Wisconsin veterans. And even with the new funding, it's expected to go $20-million in the red by June of 2015. The panel also voted 15-to-1 to keep accepting new applications for a 100-year-old state life insurance program.
Governor Scott Walker proposed cutting off new applications for the program, which offers up to 10-thousand dollars in life insurance for state residents. It has over 27,000 policies, with $210-million in total coverage. Senate Republican Glenn Grothman of West Bend was the only finance member to vote with Walker, and cut off new enrollees.