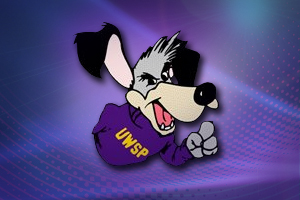 MADISON, Wis. – The UW-Stevens Point football team (4-6, 2-5 WIAC) had seven players selected to an All-Wisconsin Intercollegiate Athletic Conference team after the conclusion of the 2011 season by league coaches last week. First team honors went to Joe Mleziva (Casco, WI/Luxemburg-Casco) on defense and Grant Malmquist (Middleton, WI/Middleton) on offense, while Curtis Krump (Hankinson, ND/Hankinson), Colton Zimmerman (Iola, WI/Iola-Scandinavia), Mike Mullins (Appleton, WI/East) and Jered Fohrman (Stevens Point, WI/SPASH) received honorable mention accolades. Mahamdou Barti (Oshkosh, WI/North) was the Pointers' representative on the all-sportsmanship team.
A three-time All-WIAC selection, Mleziva locked down his second consecutive first team selection in 2011. He was also named to the second team in 2009. The Casco native finished second on the team in tackles with 87, 60 solo, while intercepting four passes and defending seven passes. His 8.7 tackles per game ranked him fourth in the WIAC. He also recorded seven games of seven or more tackles including 15 tackles in three games. In a 31-10 victory over UW-River Falls, the senior scored a touchdown on an 18-yard interception while recording 12 tackles.
Malmquist makes his first appearance in his final season with the Pointers. The senior from Middleton started all 10 games for the Pointers, appearing in 22 in his career. As an honorable mention selection, Krump led the team in tackles (91, 52 solo), tackles for loss (10.5) and sacks (3.0). His 9.1 tackles per game ranked him second in the WIAC while his 10.5 tackles for loss ranked third. He recorded seven or more tackles in seven games this season with a season-high 15 against UW-Oshkosh. This was the senior's first appearance on an All-WIAC team.
Zimmerman makes his second appearance as he was also named All-WIAC Honorable Mention in 2010. The junior finished the season with 32 tackles, 29 solo, seven passes defensed, four tackles for loss, one sack and one interception. The Iola native also recorded 603 yards on kickoffs and 72 yards on punt returns. Another first time selection, Mullins set career-highs in catches (38) and yards (511), leading UWSP in both categories. The senior from Appleton had a career-game against UW-La Crosse where he caught 10 passes for 152 yards and one touchdown.
Fohrman makes his second appearance on an All-WIAC team after his first team appearance in 2010. The senior converted 9-of-14 field goal attempts and 19-20 on PATs including a career-long 51 yarder against UW-Platteville, third longest in school history. In his two years with the Pointers, the Stevens Point native finished with 24-career field goals, ranking second in school history. Barti also makes his first appearance on the All-WIAC team as he was named to the all-sportsmanship team in his final season. The Oshkosh native started nine games and in his career, appeared in 20 games.
UW-Whitewater's Levell Coppage and head coach Lance Leipold were named Player of the Year and Coach of the Year for the second consecutive season while UW-River Falls' Greg Klingelhutz received the Max Sparger Schoolar-Athlete Award.
2011 All-WIAC Football Team First Team Offense Name, School, Year, Position, Height, Weight, Hometown (High School) Jake Wiederholt, Platteville, Senior, Tight End, 6-6, 266, Fennimore, Wis. Matt Blanchard, Whitewater, Senior, Quarterback, 6-3, 225, Lake Zurich, Ill. Levell Coppage, Whitewater, Senior, Running Back, 5-9, 190, Oak Park, Ill. Taylor Edwards, River Falls, Senior, Running Back, 6-1, 208, Janesville, Wis. (Parker) Ben Hertrampf, La Crosse, Sophomore, Running Back, 5-11, 210, Fennimore, Wis. Garrie Fox, Oshkosh, Senior, Wide Receiver, 5-11, 185, Madison, Wis. (Edgewood) Tyler Huber, Whitewater, Junior, Wide Receiver, 6-2, 195, Mukwonago, Wis. (North Prairie) Joel Yogerst, River Falls, Senior, All-Purpose, 5-11, 223, Richfield, Wis. (Slinger) Logan Allemand, Whitewater, Senior, Offensive Line, 6-3, 311, Kenosha, Wis. (Tremper) Tyler Butzler, Stout, Senior, Offensive Line, 6-5, 310, Tomah, Wis. Grant Malmquist, Stevens Point, Senior, Offensive Line, 6-6, 295, Middleton, Wis. John Nicholas, Oshkosh, Senior, Offensive Line, 6-5, 285, Oneida, Wis. (Seymour) Matt Withrow, Eau Claire, Senior, Offensive Line, 6-4, 281, Platteville, Wis. Eric Allen, Oshkosh, Senior, Center, 5-10, 285, Markesan, Wis. Christian Hallingstad, La Crosse, Junior, Punter, 5-10, 170, Cumberland, Wis. (Rice Lake) Eric Kindler, Whitewater, Sophomore, Kicker, 6-0, 179, Germantown, Wis. Greg Klingelhutz, River Falls, Senior, Return Specialist, 5-9, 188, Chanhassen, Minn. (Holy Family) Second Team Offense Austin Goetsch, Eau Claire, Junior, Tight End, 6-1, 227, Waunakee, Wis. Nate Wara, Oshkosh, Junior, Quarterback, 6-2, 205, Oshkosh, Wis. (North) Eric Brown, Stout, Junior, Running Back, 5-10, 195, St. Paul, Minn. (Arlington) Cole Myhra, Oshkosh, Sophomore, Running Back, 5-11, 205, Menomonee Falls, Wis. Darin Blaser, Platteville, Senior, Wide Receiver, 6-3, 197, Aledo, Ill. David Goodman, Eau Claire, Senior, Wide Receiver, 6-1, 182, Neenah, Wis. Justin Budiac, Oshkosh, Senior, All-Purpose, 5-8, 190, Mukwonago, Wis. Adam Cook, Platteville, Senior, Offensive Line, 6-2, 260, Morrison, Ill. Colton Friemuth, Platteville, Junior, Offensive Line, 6-4, 248, South Beloit, Ill. (North Boone) Joe Gottmer, River Falls, Senior, Offensive Line, 6-1, 270, Hayward, Wis. Ryan Olson, Whitewater, Senior, Offensive Line, 6-3, 294, Stoughton, Wis. Ben Pagel, La Crosse, Junior, Offensive Line, 5-11, 270, Appleton, Wis. (East) Grant Weltzin, Stout, Senior, Offensive Line, 6-2, 260, Cadott, Wis. Paul Santi, Eau Claire, Junior, Center, 6-1, 282, Kingsford, Mich. Zak Brinkman, Platteville, Senior, Punter, 6-2, 214, Cassville, Wis. Zach Litchfield, Platteville, Sophomore, Kicker, 6-1, 206, Waupaca, Wis. Charlie Weissman, Oshkosh, Senior, Return Specialist, 6-0, 205, Colgate (Hartford) Honorable Mention Offense Jason Ford, Whitewater, Senior, Tight End, 6-2, 245, Palatine, Ill. (Fremd) Mike Mullins, Stevens Point, Senior, Tight End, 6-4, 230, Appleton, Wis. (East) Josh Peterson, Stout, Junior, Tight End, 6-3, 225, Cedar Grove, Wis. (Cedar Grove-Belgium) Austin Neu, Eau Claire, Junior, Quarterback, 6-1, 200, Iron Ridge, Wis. (Hustisford) Tony Bilderback, La Crosse, Sophomore, Wide Receiver, 6-3, 195, Whitewater, Wis. Mike O'Connell, Eau Claire, Junior, Wide Receiver, 5-10, 168, Eau Claire, Wis. (Regis) John Wahlstrom, River Falls, Junior, Wide Receiver, 5-11, 177, Hastings, Minn. Caleb Voss, Oshkosh, Sophomore, Wide Receiver, 6-2, 195, Van Dyne, Wis. (Winnebago Lutheran) David Goebel, Stout, Sophomore, All-Purpose, 6-2, 230, Minnetonka, Minn. Bernie Tamsett, Whitewater, Junior, All-Purpose, 6-0, 225, Waterford, Wis. (Union) Lee Vlasak, Platteville, Junior, All-Purpose, 5-11, 212, Blanchardville, Wis. (Pecatonica) Brandon Peter, Oshkosh, Junior, Offensive Line, 6-2, 275, Allenton, Wis. (Kewaskum) Ross Schulz, La Crosse, Junior, Offensive Line, 6-5, 300, Bloomington, Minn. (Kennedy) Joe Gerber, Stout, Junior, Center, 6-2, 255, Minneapolis, Minn. (Totino-Grace) Kris Rosholt, Whitewater, Senior, Punter, 6-4, 231, Reedsburg, Wis. Jered Fohrman, Stevens Point, Senior, Kicker, 5-10, 185, Stevens Point, Wis. (SPASH) Chad Roscoe, Platteville, Senior, Return Specialist, 5-6, 170, Aurora, Ill. (Central Catholic) First Team Defense Casey Casper, Whitewater, Senior, Defensive Line, 6-3, 250, Dousman, Wis. (Kettle Moraine) Jimmy Hall, Eau Claire, Junior, Defensive Line, 6-4, 268, Howards Grove, Wis. Ryan Immel, La Crosse, Senior, Defensive Line, 6-4, 225, Lomira, Wis. Corey Marks, Platteville, Junior, Defensive Line, 6-3, 240, New Lenox, Ill. (Lincoln-Way Central) Vince Sciano, Oshkosh, Senior, Defensive Line, 6-5, 235, Greendale, Wis. Greg Arnold, Whitewater, Senior, Linebacker, 6-1, 240, Big Bend, Wis. (Mukwonago) Taylor Goodman, Oshkosh, Junior, Linebacker, 6-0, 220, South Wayne, Wis. (Black Hawk) Ryan Pearcy, Stout, Senior, Linebacker, 5-11, 205, Plover, Wis. (SPASH) Nick Snyder, Platteville, Junior, Linebacker, 6-1, 220, Mt. Morris, Ill. (Oregon) Derek Dreher, La Crosse, Senior, Defensive Back, 6-2, 205, Verona, Wis. Ryan McWethy, Platteville, Junior, Defensive Back, 6-1, 215, Oregon, Ill. Joe Mleziva, Stevens Point, Senior, Defensive Back, 6-0, 205, Casco (Luxemburg-Casco) Noah Timm, Whitewater, Junior, Defensive Back, 5-11, 177, Two Rivers, Wis. Second Team Defense Brent Aaron, Oshkosh, Senior, Defensive Line, 6-3, 285, Sussex, Wis. (Hamilton) Jake Hohlstein, Whitewater, Junior, Defensive Line, 6-1, 280, Portage, Wis. Jake Keeser, Whitewater, Senior, Defensive Line, 6-0, 240, Fort Atkinson, Wis. Nicholas Matthews, La Crosse, Senior, Defensive Line, 6-3, 290, Brookfield, Wis. (Central) Andrew Thompson, Oshkosh, Junior, Defensive Line, 6-3, 240, Greendale, Wis. Ryan Cortez, Whitewater, Sophomore, Linebacker, 6-0, 210, Palatine, Ill. Trevor Fiege, Stout, Senior, Linebacker, 5-10, 215, Menomonie, Wis. Jack Leahy, La Crosse, Junior, Linebacker, 6-0, 210, Hartland, Wis. (Arrowhead) Andy Neumann, Eau Claire, Senior, Linebacker, 6-1, 228, Germantown, Wis. Jack Breese, Oshkosh, Senior, Defensive Back, 6-0, 200, Kewaskum, Wis. Aaron Kobes, Stout, Senior, Defensive Back, 6-1, 210, Two Rivers, Wis. (Mishicot) Charlie Stueck, Oshkosh, Senior, Defensive Back, 5-9, 185, Clintonville, Wis. Ryan Wenkman, Whitewater, Junior, Defensive Back, 5-10, 184, Wisconsin Dells, Wis. Honorable Mention Defense Ryan Bartsch, River Falls, Senior, Defensive Line, 6-0, 230, Cameron, Wis. Sean Graham, Eau Claire, Sophomore, Linebacker, 6-0, 207, Hales Corners, Wis. (Whitnall) Curtis Krump, Stevens Point, Senior, Linebacker, 6-0, 225, Hankinson, N.D. Nate Smits, River Falls, Junior, Linebacker, 6-2, 208, Hudson, Wis. Jacob Zilbar, Platteville, Freshman, Linebacker, 6-0, 208, Tampa, Fla. (Armwood) Matt Ainsworth, River Falls, Senior, Defensive Back, 6-1, 175, Maple Grove, Minn. (Osseo) Jason Brenner, Stout, Senior, Defensive Back, 6-0, 190, Menomonie, Wis. Colton Zimmerman, Stevens Point, Junior, Defensive Back, 5-10, 185, Iola, Wis. (Iola-Scandinavia) All-Sportsmanship Team Ben Van Geffen, Eau Claire, Senior, Offensive Line, 5-10, 273, Shiocton, Wis. Bret Galligan, La Crosse, Senior, Defensive Line, 5-11, 250, Campbellsport, Wis. Wesley Price, Oshkosh, Senior, Wide Receiver, 5-11, 185, San Mateo, Calif. (Hillsdale) Nick Anderson, Platteville, Junior, Quarterback, 6-4, 208, Sycamore, Ill. John Schimenz, River Falls, Junior, Running Back, 5-8, 192, Brown Deer, Wis. Mahamdou Barti, Stevens Point, Senior, Offensive Line, 6-3, 290, Oshkosh, Wis. (North) Jason Brenner, Stout, Senior, Defensive Back, 6-0, 190, Menomonie, Wis. Jared Kiesow, Whitewater, Senior, Defensive Back, 5-10, 186, Horicon, Wis. Player of the Year: Levell Coppage of Whitewater George Chryst Coach of the Year: Lance Leipold of Whitewater Max Sparger Scholar-Athlete: Greg Klingelhutz of River Falls
##