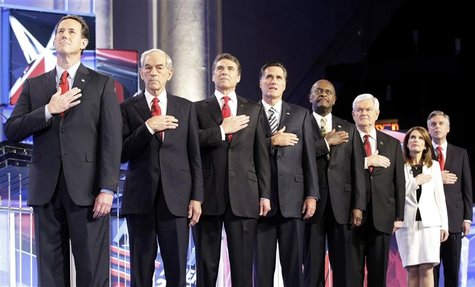 (Reuters) - The Republican presidential contenders met on Tuesday for their 11th debate in the race for the nomination to challenge President Barack Obama in 2012.
The debate centered on national security and foreign policy. Here are some of their quotes:
MITT ROMNEY, FORMER MASSACHUSETTS GOVERNOR
On U.S. aid to Pakistan
"We need to bring Pakistan into the 21st century, or the 20th century for that matter."
How to prevent a nuclear Iran:
"The right course in America is to stand up to Iran with crippling sanctions, indict Ahmadinejad for violating the Geneva -- or the Genocide Convention...I know it's going to make gasoline more expensive. There's no price which is worth an Iranian nuclear weapon."
RICK SANTORUM, FORMER U.S. SENATOR FROM PENNSYLVANIA
On profiling Muslims:
"Well, the folks who are most likely to be committing these crimes. If you look at -- I mean, obviously, it was -- obviously, Muslims would be, would be someone you'd look at, absolutely. Those are the folks who are, the radical Muslims are the people that are committing these crimes."
NEWT GINGRICH, FORMER HOUSE OF REPRESENTATIVES SPEAKER
Whether cuts to defense spending are unacceptable:
"No...it's clear that there are some things you can do in defense that are less expensive. It's clear, if it takes 15 to 20 years to build a weapons system at a time when Apple changes technology every nine months, there's something profoundly wrong with this system. So I'm not going to tell you automatically I'm going to say yes."
On amnesty for illegal immigrants:
"I don't see how the party that says it's the party of the family is going to adopt an immigration policy which destroys families that have been here a quarter century. And I'm prepared to take the heat for saying, let's be humane in enforcing the law without giving them citizenship but by finding a way to create legality so that they are not separated from their families."
On the killing of Osama bin Laden:
"We were told, a perfectly natural Washington assumption, that our killing bin Laden in Pakistan drove U.S.-Pakistan relations to a new low. To which my answer is, well, it should have because we should be furious."
Supporting the Patriot Act:
"No, I would not change it ... And I'd look at strengthening it, because I think the dangers are literally that great."
HERMAN CAIN, FORMER PIZZA EXECUTIVE
On the need to keep the Patriot Act:
"The terrorists have one objective that some people don't seem to get. They want to kill all of us. So we should use every mean possible to kill them first or identify them first."
Mixing up CNN moderator Wolf Blitzer's name:
"No, Blitz ... I'm sorry, Blitz, I meant Wolf, OK? This was --since we're on a, since we're on a blitz debate. I apologize."
RICK PERRY, TEXAS GOVERNOR
How to stop an Iranian nuclear program:
"We need to sanction the Iranian central bank. That would be one of the most powerful ways to impact that... What we need to do before we ever start having any conversations about a military strike, is to use every sanction that we have."
Proposing a no-fly zone over Syria:
"If we're serious about Iran, and that's what we're really talking about. Syria is a partner with Iran in exporting terrorism all across that part of the world and around the globe. So if we're serious abut Iran then we have to be serious about Syria as well."
Criticizing U.S. aid to Pakistan:
"To write a check to countries that are clearly not representing American interests is nonsensical."
On congressional failure to agree on budget cuts:
"I don't think anybody is particularly surprised that the super committee failed. It was a super failure. And I think we expected that."
MICHELE BACHMANN, U.S. CONGRESSWOMAN FROM MINNESOTA
On Pakistan:
"Pakistan is a nation, that it's kind of like too nuclear to fail."
RON PAUL
On aid to impoverished countries:
"I think the aid is all worthless. It doesn't do any good for most of the people. You take money from poor people in this country and you end up giving it to rich people in poor countries."
On border security and immigration:
"The drug war was mentioned. I think that's another war we ought to cancel."
(Compiled by Lily Kuo)