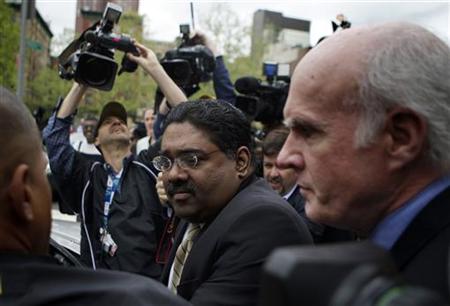 By Grant McCool
NEW YORK (Reuters) - Convicted hedge fund tycoon Raj Rajaratnam is fighting to the last minute to convince the judge who will decide his fate next week to imprison him for far less than the 19-1/2 to 24-1/2 years demanded by prosecutors.
At a hearing on Tuesday in Manhattan federal court, Rajaratnam's lawyers disputed prosecutors' descriptions of the Galleon Group founder as a "serial" offender deserving of one of the longest sentences for Wall Street insider trading.
Prosecutors have called for a prison sentence of about 20 years or more for the central figure in what they describe as the biggest probe of insider trading at hedge funds on record. Defense lawyers suggest a much lower guidelines sentence of between 6-1/2 years and 8 years, or less.
The main arguments revolved around sharp disagreement over Rajaratnam's millions of dollars in illicit profits, or losses avoided in pulling positions in stocks -- based on inside tips -- that he knew would fall in value.
The issue is key to what punishment U.S. District Judge Richard Holwell will impose on Rajaratnam. The hedge fund manager is set to be sentenced on October 13 under nonbinding federal guidelines that take the "loss amount" into account and can enhance or reduce a prison term.
Rajaratnam lawyer Terence Lynam argued that the guidelines refer to "gains resulting from the offense" and said the "court should isolate the gains from insider trading from other factors in the market" -- one of the main differences between the calculations by the two sides.
"We don't dispute that insider trading is a serious offense," Lynam said as Rajaratnam sat in court looking straight ahead. "But the sentencing range overstates the seriousness of the offense here."
Prosecutors and defense lawyers are so far apart on the issue that Holwell took the relatively unusual step of scheduling a separate hearing.
At Rajaratnam's two-month-long trial, which ended in May with a sweeping conviction on 14 criminal charges, the government put the figure at $63.8 million in dozens of stocks, including Goldman Sachs Group Inc, Google Inc and Intel Corp.
In court on Tuesday, a prosecutor said Rajaratnam's insider trading gains could be as much as $72 million, but needed only to be $50 million to qualify Rajaratnam for an enhanced sentence under the guidelines.
Assistant U.S. Attorney Andrew Michaelson said government calculations showed about $30 million was made on mergers and acquisitions, $30 million from earnings announcements and $10 million in "loss avoidance" with the rest in other Galleon trades.
Defense lawyers estimated the amount at about $36.3 million, but argued on Tuesday that the money manager should be held responsible on personal gains of as little as $7.4 million. They said Rajaratnam's Galleon trades should not be counted.
Galleon was wound down after Rajaratnam's October 2009 arrest and all its investors were made whole.
Michaelson told the judge the parties were "close to an agreement" on the money Rajaratnam will forfeit, but he was not specific about the amount.
Holwell said he would announce his ruling on the gains at the sentencing proceeding.
Holwell is still due to rule before sentencing on a government request to make documents about Rajaratnam's medical record public. Rajaratnam argues in pre-sentencing papers that he needs "life-sustaining medical care." The ailments are not described. His lawyers say they should remain private.
Rajaratnam, 54, was convicted on evidence based largely on FBI phone taps in a broad probe that ensnared dozens of traders, lawyers and executives, most of whom pleaded guilty and chose not to exercise their right to a trial.
His lawyers have asked the judge to allow him to remain free on $100 million bail and under house arrest in his Manhattan apartment while he appeals his conviction.
They cited Rajaratnam's health and his adherence to bail conditions since his arrest as reasons why he should not report to prison until the appeal process is completed.
The case is USA v Raj Rajaratnam et al, U.S. District Court for the Southern District of New York, No. 09-01184.
(Reporting by Grant McCool, editing by Gerald E. McCormick, Gary Hill)