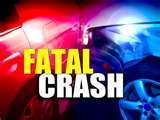 MARSHFIELD, Wis (WSAU) A 24-year-old Marshfield man is dead after a one-car crash in Wood County yesterday.
Zachery Singer was a passenger in an SUV that overturned on Day Road. After yesterday's rain some gravel on the shoulder gave way. The SUV went into the ditch and overturned. Singer wasn't wearing a seatbelt and was ejected. He died at the scene.
The driver, 18-year-old Julie Burkhalter of Auburndale, is recovering at St. Joseph's Hospital in Marshfield.