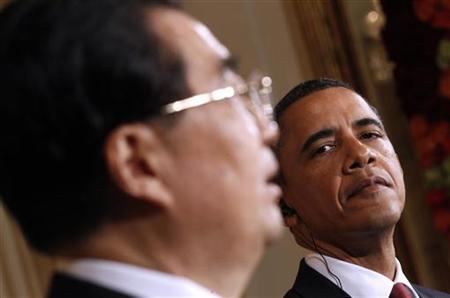 By Doug Palmer
WASHINGTON (Reuters) - Democratic lawmakers vowed on Friday to keep pressing for a vote on a bill to punish China over its currency valuation, saying the legislation Republican leaders are blocking is vital for U.S. trade competitiveness.
"It is estimated that currency manipulation costs our economy over a million jobs," said Steny Hoyer, the No. 2 Democrat in the House of Representatives. "I urge the Republican leadership to put the currency bill on the floor."
Hoyer also urged Republican presidential hopeful Mitt Romney, who has promised to label China a currency manipulator on his first day in office, to press the issue with other Republicans.
"He certainly ought to talk to Mr. Boehner," Hoyer said, referring to House Speaker John Boehner, who has called the bill "dangerous" and has warned it could spark a trade war.
The Democratic-controlled Senate on Tuesday voted 63-35 to pass the bill, which aims to pressure China to let its yuan rise in value faster by allowing the United States to slap duties on goods from countries with undervalued currencies.
Many U.S. lawmakers contend that China undervalues the yuan by as much as 15 to 40 percent to give its companies a price advantage in international markets.
The opposition from Boehner, the top Republican in the House, could mean the bill never comes up for a vote, even though a similar measure cleared the chamber last year 348-79.
"They don't want this bill on the floor for one reason: it would pass," said Representative Sander Levin, the senior Democrat on the House Ways and Means Committee. "The speaker should let the House work its will."
In another aspect of growing trade friction, Levin said action was needed to stop unfairly subsidized solar panel imports from China and other suppliers that threaten U.S. industry.
PRESSURE POINTS
Beijing has pressed the White House to block the currency bill, which it says is a protectionist measure that "gravely violates World Trade Organization rules" and would jeopardize global economic recovery if it becomes law.
The Obama administration says it shares the goal of the Senate legislation, but it has raised concern that some provisions could violate WTO rules.
Levin said he was confident that the House bill passed last year did comply with WTO rules, whatever concerns the administration may have about the Senate's bill.
A bipartisan group has reintroduced the bill the House passed last year and it currently has 225 co-sponsors, including 61 Republicans. Only 218 votes would be needed to pass the measure if it came up for a vote.
A "discharge petition" to try to force House action has garnered 175 signatures but 218 are needed. No Republicans are supporting that effort.
House Ways and Means Committee Chairman Dave Camp, a Republican, has promised to hold a hearing this month on a wide array of China trade concerns, but has not committed to pursuing any legislation.
Meanwhile, the U.S. Treasury Department faces a Saturday deadline to issue an semi-annual report on whether any country is manipulating its currency for an unfair trade advantage.
The Obama administration, in five previous reports, has declined to take the step of formally labeling China a manipulator. Doing so would require stepped-up negotiations with China over its exchange rate.
The semi-annual report is often delayed and the Treasury Department's press office did not respond to a request on Thursday for information on when the upcoming report would be released.
(Editing by Vicki Allen)