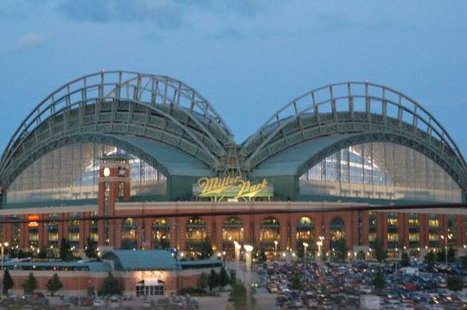 MILWAUKEE (WSAU) For the only the third time since 1982, Wisconsin sports fans are being distracted from their October football. The Milwaukee Brewers – who have the best home record in Major League Baseball this year – earned home-field advantage for the first round of the playoffs with a 7-to-3 win over Pittsburgh last night in the final game of the regular season. The Brewers won their first division title in 29 years last Friday night.
They'll host the Arizona Diamondbacks on Saturday and Sunday in their best-of-five National League Division Series.
It's been a history-making year for Milwaukee. The Brewers went 96-and-66 and set a team record for victories. Ryan Braun finished second for the National League batting title, as he failed to get the three hits he needed last night to overtake Jose Reyes of the Mets. Milwaukee's Prince Fielder and Matt Kemp of the Dodgers were tied for the league home run title going into last night, but Kemp homered and Fielder didn't. Fielder wound up in second place with 38 round-trippers. Brewers' closer John Axford tied for the National League saves' title with Atlanta's Craig Kimbrel, both with 46. Axford set a team record last weekend with his 45th save.
And the fans loved it all. The Brewers set a new attendance record, as almost 3.1-million customers watched their 81 home games. Now, the Brewers will embark on their first playoff run since 2008, and only their third since 1982 when they lost the World Series to Saint Louis.
The team will appear at a pep rally at five this evening at Milwaukee's Summerfest Grounds.