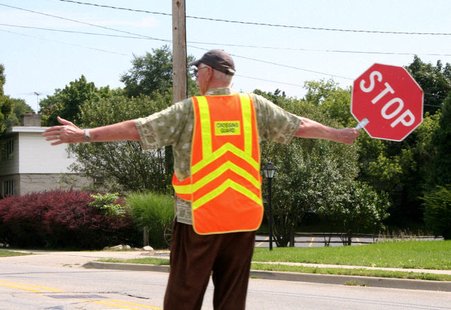 WAUSAU, Wis. (WSAU) – Wausau will hire a local crossing guard supervisor.
The City Council voted 8-3 Tuesday night to regain control of its crossing guard program from a California company. Aldermen Bill Nagle, Romey Wagner and David Nutting voted against the hiring. The same three opposed the Council's move in January to end its contract with All City Management Services on the last day of school.
"I don't see this as a bad deal," said alderwoman Lisa Rasmussen, who had been one of the Council's most vocal critics of the outsourced crossing guard services. "At the end of the day, we're still cheaper than what the ACMS contract is listed at."
The city's contract with All City Management Services cost $92,900. The city had spent $75,000 on crossing guard services before the contract. Hiring a local supervisor will cost $6,500 – meaning the city's new cost of providing crossing guard services is $81,409 – an estimated $11,500 savings from ACMS.
"There are certain things we can't cut costs and our kids' safety is one of them," Wagner said.
In addition to hiring a local supervisor, the city will offer a job to the existing guards who work for ACMS. Almost all of the guards had worked for the city last year before the new contract.
The plan would develop a pool of substitute guards, which city officials say will eliminate having to pull patrol officers off the street to cover for sick guards. The city's proposal will also reduce police supervision of the program.