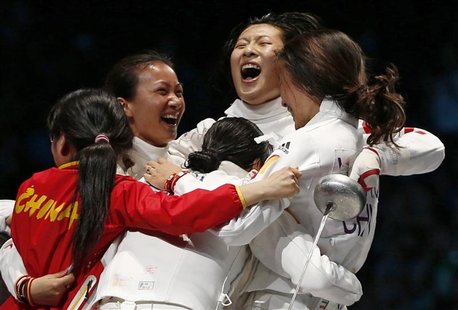 By Daniel Bases
LONDON (Reuters) - China fought off early jitters and caution to grind down South Korea to take gold in the women's team epee final on Saturday.
In a flurry of touches by world number one Sun Yujie, third seeded China took the final margin of victory to 14 points with the final score 39-25 over the eighth seeds.
South Korea's team, having upset the top seeds and reigning world champions Romania in the first round, jumped to an early lead but then ran out of gas in the closing rounds.
The United States won their first medal in fencing at the London Games, beating Russia in sudden death by a score of 31 to 30, to take bronze.
The silver medal puts South Korea, a relative newcomer to the top ranks of fencing, tied for first in the fencing medals table with six medals along with perennial powerhouse Italy.
China are third in the fencing medals count with three.
(Reporting By Daniel Bases; editing by Michael Holden)