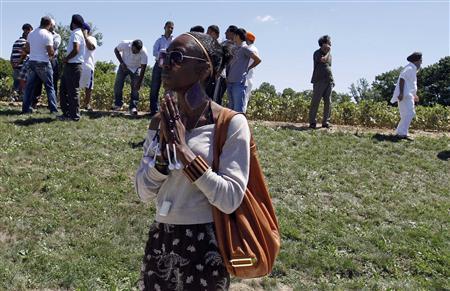 OAK CREEK, WI (WTAQ) - The Oak Creek police chief says he's struck by the Sikh community's peaceful reactions to the shooting massacre at their temple.
John Edwards told hundreds of people at a vigil in Oak Creek Tuesday night that such incidents often prompt anger and calls for revenge. But the chief says he has seen neither.
Sikh leaders say they advocate peace – and Americans need to learn more about them because too many confuse the Sikhs for Muslims and Arabs.
Organizers of the vigil asked people to cover their heads with handkerchiefs, and most complied. U.S. Senator Herb Kohl, U.S. House members Gwen Moore and Paul Ryan, Milwaukee Mayor Tom Barrett, and Governor Scott Walker were among those who attended.
Walker excused himself early after his wife went to a hospital with stomach pains.
Attendees held candles and prayed for the shooting victims. Sikh member Karan Singh Toor said there was a mix of races in the audience – and it made her proud to be an American.
Authorities continue to investigate the shootings, and the Sikh Coalition says it wants to know the motive.
White supremist Wade Michael Page may have acted on his beliefs – but investigators say that cannot be proven yet. And they may never know the full story of why the shootings happened.