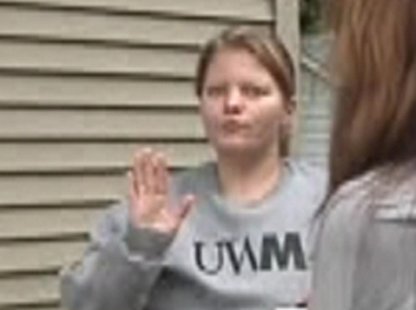 SOUTH MILWAUKEE, Wis (WSAU) The woman who broke up with Wade Michael Page just weeks before he committed the Oak Creek temple shootings was arrested last night.
Police searched Misty Cook's apartment in South Milwaukee about the same time they searched Page's duplex in Cudahy. And officers found a gun that Cook was not supposed to have, because she was convicted of a felony in 2005 for fleeing police officers in Milwaukee County. The district attorney's office will now decide whether to charge the 31-year-old Cook with being a felon in possession of a firearm.
Authorities have said that Cook, a nursing student, had no role in Sunday's shooting spree in which Page shot nine people at the Sikh Temple before an Oak Creek officer killed him.
Three victims were still in critical condition yesterday, including police lieutenant Brian Murphy. The Journal Sentinel said Cook may have shared Page's white supremist beliefs – and she's apparently why Page moved to Wisconsin in November of last year. The paper's Web site today has a photo showing Cook with members of the white supremist group Volksfront. Cook said she would not comment, saying her words could not ease the pain the victims' families are going through.