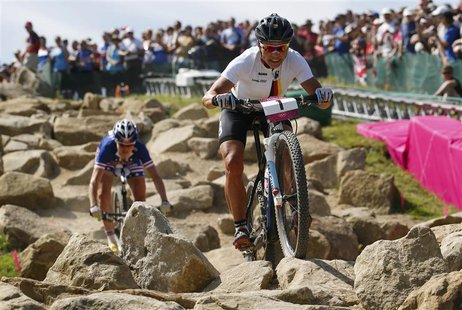 By Martyn Herman
HADLEIGH, England (Reuters) - Germany's 40-year-old Sabine Spitz proved she can still mix it with cross-country cycling's fearless young riders as she completed her Olympic medal collection on Saturday.
The reigning champion in a discipline that requires power, endurance and guts in abundance, Spitz, the oldest of the 30 starters, trailed in 62 seconds behind French winner Julie Bresset after a minor crash blew her chance of a second gold.
Six laps of the five kilometres course cut into a hill overlooking the Thames Estuary left many of her younger rivals sweat-streaked and dusty as they walked through the finish area, but Spitz looked as though she had just been for a gentle ride.
She will never know whether the slow-motion stumble on the section of the course called the Rock Garden, when she lost control on the fourth lap and ended in an untidy heap, cost her the chance of victory, but she wasn't complaining.
"Julie did a good job today and was strong," Spitz, who first competed in 1994, told reporters. "When I crashed I lost my rhythm and it took me half a lap or a lap to get it back.
"(American bronze medallist) Georgia (Gould) overtook me but I was able to stay on her tail and get the silver."
"It was amazing. Now I have my Olympic collection of three different medals so it's perfect," said the four-times Olympian who also won a bronze medal in Athens.
Nature-loving Spitz bought her first mountain bike in 1990 as a way to explore the hills of the Black Forest but her competitive instinct pushed her to start competing and since then she has won virtually every major honor in the sport.
What is more, she still tackles the kind of climbs that would make weekend riders' eyes water.
"The thing is I still enjoy all the training," said Spitz, who sold her car to finance her first Olympic bid in 2000 after an injury left her without funding.
"When I did my interval training here I did it with a smile on my face. This was a tough course, more than Beijing four years ago when I won gold, but I enjoyed it."
The former world cross-country champion and twice European champion still competes in mountain bike marathons - an event in which she was crowned world champion in 2009.
She will compete in the world championships again in a few weeks in Austria but suggested that a fifth Olympics in Rio de Janeiro might be beyond even her pedaling powers.
"I'm still really focused and I've always been able to go for the big events," she said. "But Rio? I don't think so.
"Although maybe as a coach. Anyway, I have my collection now, they would have to give me another color."
(Editing by Matt Falloon)