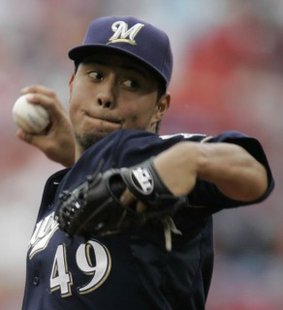 MILWAUKEE, WI (WSAU) The Milwaukee Brewers won at home for the ninth straight time, riding a two-run home from Ryan Braun to a 6-2 win over Philadelphia. Braun's roundtripper was his 32nd, tops in the National League.
Winning pitcher Yovani Gallardo won his fourth straight decision.
Braun, Gallardo and Nyjer Morgan each drove in two runs. Braun actually made two outs during a four-run fourth inning for the Brewers, but then hit his two-run shot to center in the sixth.
Gallardo gave up just one run on four hits in seven innings, walking two and striking out nine. Vance Worley took the loss. Philadelphia had scored first when the Brewers broke the game wide open in the fourth.