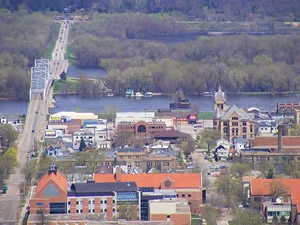 WINONA, MN (WTAQ) - Transportation officials announced plans Thursday to build a second two-lane bridge over the Mississippi River that links Winona Minnesota to western Wisconsin.
The Gopher State's DOT had initially talked about upgrading the current two-lane bridge that was declared structurally-deficient a few years ago. But local, state, and federal officials said Winona needs another two lanes of bridges – and the DOT agreed that a separate structure would meet traffic needs while preserving historical features of the original 70-year-old bridge.
The new bridge would be built upstream from the old one, and both would continue to be used. Winona Mayor Jerry Miller calls it a "win-win" for everybody concerned.
U.S. Senator Amy Klobuchar of Minnesota said she would work with federal and state officials to keep the new bridge project moving forward.
Under the DOT's initial plans, the design and property acquisition would be finished by late 2014 – and construction would begin in '15. Miller says he'll push to have it done sooner.
The old Winona bridge was closed for part of 2008 after gusset plates were found to be corroded. Hundreds of Wisconsinites who work in Winona had to drive for miles out of their way until a temporary ferry was put into place.