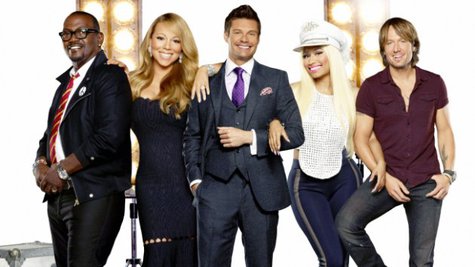 Mariah Carey , Keith Urban and Nicki Minaj are set to take their places at the judges' table when American Idol returns in January, and on the next season of The Voice, Usher and Shakira are set to step into Christina Aguilera and Cee Lo Green 's big red chairs. But if these stars are hoping that the exposure they get as reality show judges will lead to career boosts...well, they should know that it's not a sure thing.
Entertainment Weekly has done a survey of how some current and recently-departed reality show judges' sales and careers have been affected since they began appearing on their respective shows, and the results seem to indicate that it helps some, but not others.
According to EW, the "Winners" column includes Voice coaches Blake Shelton , Adam Levine and Cee Lo Green, as well as X Factor judge Demi Lovato . Adam's scored two #1s with Maroon 5 since his stint on The Voice began, Cee Lo's new Christmas album is selling respectably, and Blake has captured country music's highest honor, the CMA's Entertainer of the Year Award. As for Demi, her single "Give Your Heart a Break" soared after X Factor premiered.
In the "Losers" column, says EW, is Voice coach Christina Aguilera, whose appearance on the show failed to ignite sales of her new album Lotus and its single "Your Body." The magazine cites her "unlikability" as the issue, saying that it appears she's been cast as the show's "villain."
Also "Losers," according to EW, are departing American Idol judges Jennifer Lopez and Steven Tyler . While J-Lo's single "On the Floor" became her first big hit in years while she was on the show, the album it came from, Love?, was a sales disappointment. As for Steven, his solo single "(It) Feels So Good" was a flop and the new album from his band Aerosmith , released this fall, didn't burn up the charts either.
EW places X Factor judge Britney Spears in the "loser" column as well, but admits that she's "more of a question mark," since all she's released since she's been on the show is her new single with will.i.am , "Scream & Shout." While the mag wonders if Britney has justified her reported $15 million salary, it points out that least the way she comes across in the live X Factor shows has "chipped way at her pop-robot rep."
Copyright 2012 ABC News Radio