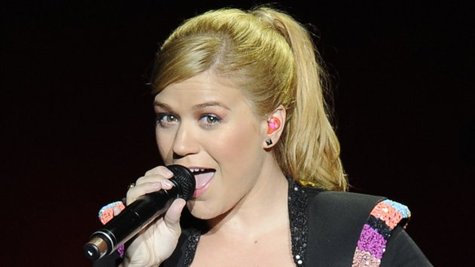 Kelly Clarkson's never released a Christmas album of her own, but this year, she's popped up as a guest star on Cheers, It's Christmas , the holiday album by her buddy, Voice coach Blake Shelton . And Kelly's now going one step further, guest starring on Blake's NBC holiday special Not So Family Christmas , which airs Monday night at 10 p.m. ET.
In addition to singing the Christmas song "There's a New Kid in Town" with Blake, Kelly will also appear in various skits, which she says she was "excited and scared" to do. "When I showed up, I didn't know there were skits, and I actually love skits...I think it's fun, and people don't usually get to see me do stuff like that -- or any of us [singers], really," she says.
Describing the level of humor we'll see in the show, Kelly says, "This is gonna be totally Family Guy, like, South Park fun, like SNL, and I can't wait for people to see it. I love that I'm a part of it because I loved this kinda humor -- it's funny to me."
Kelly's just one of many special guests on the show -- others include Christina Aguilera , Jay Leno , Larry the Cable Guy and, believe it or not, even Blake's mom Dorothy Shackleford , with whom he duets on the album.
Copyright 2012 ABC News Radio