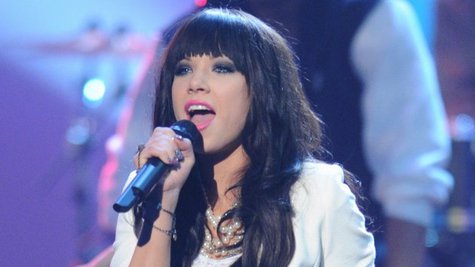 Rock goddess Stevie Nicks is well aware of what's going on the charts today, and she wants to see the younger generation have the kind of long-lasting career that she's enjoyed. She especially wishes this for Carly Rae Jepsen, because she's a huge fan of "Call Me Maybe."

"In many ways I feel very, very sorry for this generation of kids because I think some of them are really really good," Stevie tells The Huffington Post . "You know, I'm walking around and I can't stop singing 'Call Me Maybe'...But I love it." Stevie says she hopes that Carly, who she calls "that little girl," can keep her career going.

"She's really good," says the Rock and Roll Hall of Famer. "So maybe she should get a band. And she should practice, you know. And she should play gigs. She should work on it. But the problem is today, you know, even if you do that and you have a huge song like that, and even if you come up with two or three more huge songs, it's going to be very hard to follow that up."

Of course, Carly does have a band, and she's been practicing and playing gigs for years now, ever since she came in third on Canadian Idol and toured Canada in a minivan.

Stevie also has some retroactive advice for Rihanna . After she saw her perform on Letterman, Stevie says she thought, "She really could be a rock singer. She could front a really great rock-n-roll band and she should." In fact, Stevie says that Rihanna "would probably be happier" had she fronted a rock band and then had a solo career. "She could have done both like I do...it's a heck of a lot more fun," notes Stevie.

Stevie also reveals that she once wrote Kanye West a letter after his mother, Dr. Donda West, died following plastic surgery. However, she never sent it.

"I wrote him a three-page letter that was about how I felt about losing his mother and what she must have meant to him and the way that he lost her in such a crazy way," she says. So why didn't she send it? "I thought 'Oh, he'll just think this is stupid and what does this girl want with me and what is she writing about my mother for?'"
However, informed by HuffPo that Kanye has said her music influenced him, she says, "I might just have to type that letter up and send it off now."
Copyright 2012 ABC News Radio