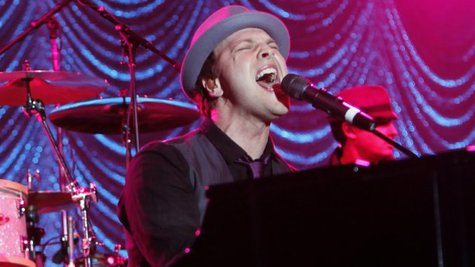 Gavin DeGraw 's most recent tour is documented on Sweeter Live , a new live CD and DVD that's in stores Tuesday. It was shot in Lancaster, California this past August when Gavin was on the road with Colbie Caillat , and the package includes the two duetting on his hit song "Not Over You."
"I've been playing shows now for so long and for so many years and so many tours and there's just never reall been anything that captured the live moment in a visual way," Gavin tells ABC News Radio. "Y'know, not just the sound of it but being able to talk to the audience and have that banter, and have that rapport...you know, really show what a live performance is. It's not just playing songs."
In fact, Gavin says he sees the new DVD almost as an advertisement for his future tours.
"Having the opportunity to put out a live DVD really gives people who aren't necessarily fans an idea of what a show of mine is like," says the former Dancing with the Stars contestant. "You know, 'What's Gavin DeGraw like live?' Well, now there's a way to see what that is! And then you could find out if you want to go sit there and watch it or not."
The package includes live versions of Gavin's hits "I Don't Want to Be," "Sweeter" and "In Love with a Girl," as well as his new single, "Soldier." The official videos for "Not Over You" and "Sweeter" round out the DVD package. Gavin says he's pleased with the way it turned out, especially because he thought the gig that was captured was a good one.
"It was a type of fair setting where in, way in the distance you could see the ferris wheel and, you know, you could see some of the lights flickering and it really added to the fun of it," he says. "I really love the collection of songs that were on the live album. It's very, very diverse collection of songs."
Gavin and Colbie are gearing up to release their new duet, "We Both Know," which will appear in the upcoming Josh Duhamel / Julianne Hough movie Safe H aven. The two also duet on Colbie's holiday album Christmas in the Sand.
Copyright 2012 ABC News Radio