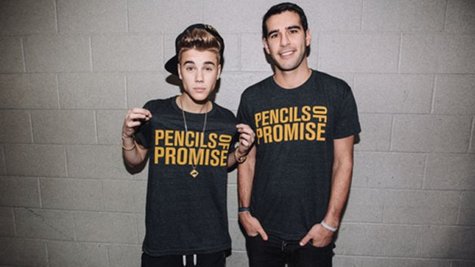 If you could buy a lottery ticket that would give you a chance to meet Justin Bieber , how much would you pay? If $25 sounds fair, then have we got a deal for you.
Justin and his favorite charity, Pencils of Promise, are teaming up for a new campaign called Schools4All , and a contest that goes along with it. Schools can compete to get a personal visit from The Bieb with just a $25 donation.
Here's how it works: starting now through January 31, every $25 raised will count towards a lottery ticket entry for the contest. Any student can create his or her own team at School4All.org, or join their school's team. After signing up, they can fundraise with their school to earn lottery tickets, and then Pencils of Promise will draw one ticket to determine the grand prize winner. The top three fundraising schools will win free flights for selected students to meet Justin during the school visit.
In a statement, Justin says, "I wanted to give every one of my fans a chance to help others and bring me to their school for just $25. The Schools4All campaign is a way for us young people to make a change, and I'll get to thank an entire school in person."
Pencils of Promise helps provide children around the world with a quality education by raising money to build new schools.
Copyright 2012 ABC News Radio