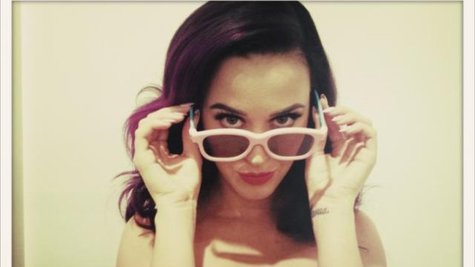 Anyone who's seen Katy Perry's movie Part of Me knows just how much she loves her older sister, Angela Hudson . So it's no surprise that she threw Angela a big bash over the weekend to celebrate her upcoming birthday.
US Weekly magazine reports that the party, which took place in Los Angeles, took place on Saturday, though Angela's birthday is on Friday. The masquerade-themed bash featured gourmet grilled cheese sandwiches and soup, '80s and '90s music, and a cake topped with a gold crown. Katy's costume involved white and red rhinestones around her eyes, according to an insider.
And in news relating to a former member of Katy's family, US Weekly also reports that last month, the singer dove under a table at the Beverly Hills Polo lounge when she saw her ex-husband Russell Brand approaching. A witness tells the magazine that Katy was dining with John Mayer on November 11 when the hostess approached with Russell, and the horrified singer crouched under the table. The hostess then steered Brand away.
However, Brand was still curious about getting a look at his ex-wife and her new man. "On his way to the bathroom, he looked at [John and Katy] through a window!" a source tells US Weekly.
Copyright 2012 ABC News Radio