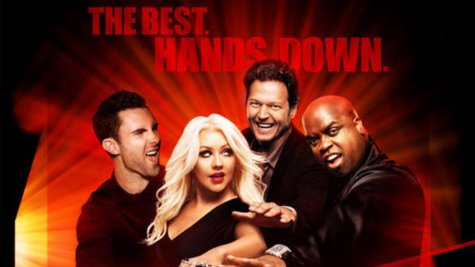 The remaining six contestants sang for America's votes on Monday's edition of The Voice . Each act performed twice, singing one song of their choosing and another picked by their mentors.
Cee Lo Green missed rehearsal week due to illness, so Pat Monahan of Train stepped in to help prepare his two acts. Adam Levine and Blake Shelton also have two contestants a piece still in the running.
Christina Aguilera has no one left on her team, but she's still on hand to give notes to everyone, as usual. This week's results will be revealed during Tuesday's live show.
Here's a rundown of Monday's performances:
Team Cee Lo:
-- Pat Monahan helped coach Nicholas David with a song picked by Cee Lo. They worked on "September," by Earth Wind & Fire and Pat encouraged Nicholas to use parts of his range he's never used before. Adam said Nicholas has a real identity but relied on the backup singers a little too much for the higher parts. Christina acknowledged the talent Nicholas has but would like him to get a little more adventurous. Cee Lo agreed that though good, Nicholas should have sung more of the chorus himself.
-- Nicholas went to the movies for his second song. "Somewhere Over the Rainbow," from The Wizard of Oz is his mother's favorite song. He faced the challenge of bringing his own twist to an extremely familiar song. Adam said he's always curious as to what Nicholas will do next and is a big fan. Blake called the performance "magic and beautiful." Cee Lo gave Nicholas his full "strong and loyal support."
-- Trevin Hunte was handed "Walking on Sunshine, by Katrina and the Waves to sing by Cee Lo and was coached by Pat to have fun and "let loose." Adam said it was the last song he expected Trevin to sing but thought it a "genius pick" by Cee Lo. Blake like to hear Trevin punch in with his "big notes." Cee Lo said Trevin made him feel better.
-- Pat helped Trevin reach the high notes as he prepared his version of "And I Am Telling You I'm Not Going," from the musical Dreamgirls . He gave Jennifer Hudson' s version a run for its money. Adam said Trevin had an "incredible God-given voice." Blake appreciated Trevin not holding back. Christina said that she would gladly take him under her wing, regardless of how he places in the contest.
Team Blake:
-- Blake picked "Stand," by Rascal Flatts for Cassadee Pope . She wanted to find "moments" for her vocal to soar. Christina is rooting for Cassadee and said her "chops are spot on," and "on the money." Adam agreed, but would like to see something more adventurous from Cassadee. Blake said she made the record "her own."
-- Cassadee called her next number her "dream song." She chose Avril Lavigne 's "I'm With You." Blake said in rehearsals he thought the song would be perfect for her. Cee Lo said Cassadee has had an impeccable track record on the show. Adam called it his favorite performance by her. Blake said Cassadee was born with the ability to be a star performer.
-- Terry McDermott picked Foreigner 's "I Want to Know What Love Is," a song which helped him when he lost his mother. He performed a piano and vocal version of the ballad. Christina said Terry "truly brings it home" and is "amazing." Cee Lo could see that Terry connected emotionally with the song. Blake wanted everyone to realize how tough the song is to sing and called the performance "unbelievable."
-- For Terry's second song, Blake picked The Faces ' "Stay with Me." Terry admitted the song was at the extremes of his range and he needed to keep his focus. Cee Lo called Terry "the real thing,' when it comes to rock and roll. Adam called Terry the "most consistent" performer, and Blake said he made it seem easy.
Team Adam:
-- For her song choice, Amanda Brown decided to show off her "church voice" on Aretha Franklin 's "(You Make Me Feel Like) A Natural Woman." She was accompanied by a gospel choir. Blake could not find anything to criticize and called Amanda "world class." Adam called the performance "awe inspiring"
-- Amanda's second song was Whitesnake' s "Here I Go Again." It wasn't an obvious choice but she wanted to show her rock side. Christina was glad Amanda stuck to her rock roots. Cee Lo said he was being healed by Amanda's performance. Adam noted that both of Amanda's performances showcased her range.
-- Melanie Martinez picked "Crazy," by Gnarls Barkley and decided to sing a softer version of the song which originally featured Cee Lo Green on vocals. Christina liked the "cool, lullaby effect." Cee Lo was suitably impressed and thought she did a great job. Adam spotted some pitch issues.
-- Adam chose "The Show," by Lenka for Melanie's second song. He wanted her to show her lighter side, feeling the lyrics would connect with her young fan-base. Blake appreciated the light touch and liked the vocal. Christina wanted to hear a more sultry side to Melanie's performances, like Fiona Apple . Adam thought Melanie connected with the song well, pointing out she helped design the stage set.
The Voice returns to NBC on Tuesday at 8:00 p.m. Eastern time.
Copyright 2012 ABC News Radio