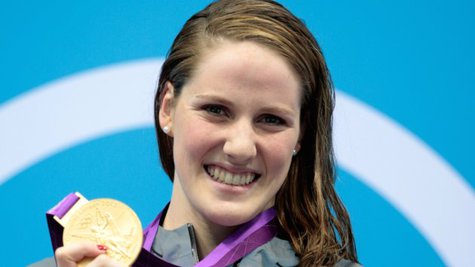 Over the summer, one thing everyone learned about Olympic swimmer and four-time gold medalist Missy Franklin is that she has Bieber Fever. A massive fan of Justin Bieber , she was thrilled over the summer when the singer sent her a care package of T-shirts, posters, CDs and other goodies. But now she tells ESPN magazine that Justin's gift seriously threatened her career.
You see, Missy needs to retain her status as an "amateur" in order to swim for the University of California this fall, and as she tells ESPN magazine, those gifts could have compromised her.
"It was really sweet of him. But it was considered a form of special treatment that could have jeopardized my amateur status," she explained. "I've given up way too much and sacrificed too much to keep a Justin Bieber T-shirt and lose it all. So I sent it back."
Over the summer, Justin sent a tweet to Missy after she scooped the gold in the 100-meter backstroke, writing, "heard @FranklinMissy is a fan of mine. now im a fan of hers too. CONGRATS on winning GOLD! #muchlove ." Missy retweeted Justin's message, and added , "I just died! Thankyou!"
Copyright 2012 ABC News Radio