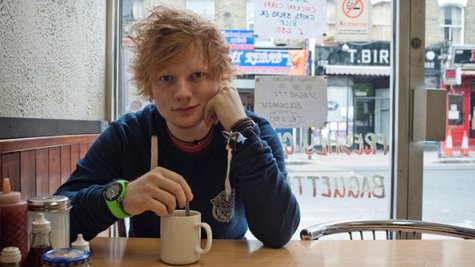 While he's been a star in his native U.K. for a while, a year ago, few people in the U.S. had heard of Ed Sheeran or his song "The A Team." Now, he's received one of the American music industry's highest honors -- a Grammy nomination -- and he's pretty psyched about it.
Sheeran wrote on Twitter, "I've been nominated for a Grammy. I'm so happy. 'A team.' A song I wrote with no home, no money, anything, nominated or best record at the Grammys. A dream come true. Ecstatic xxx." He added, "I can't describe how happy I am. Ahhhh!"
Unfortunately, Ed was a bit confused: he's not nominated for Record of the Year for "The A Team." He's nominated for Song of the Year, which is different. Song of the Year goes to songwriters only, so if you're a pop star who doesn't write her own music, like Rihanna , for example, you won't be in this category.
Ed's competition, by the way, includes the guys from fun. , for writing "We Are Young;" Carly Rae Jepsen and her two co-writers for "Call Me Maybe," R&B star Miguel for writing his song "Adorn;" and the four guys who wrote "Stronger (What Doesn't Kill You)" for Kelly Clarkson .
Carly, meanwhile, has pronounced herself "over the moon excited" and "extremely thankful" for her two nominations.
Copyright 2012 ABC News Radio