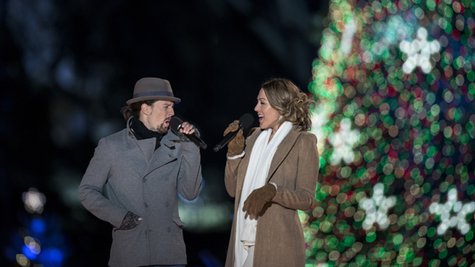 With a little help from Jason Mraz , Colbie Caillat , The Fray , James Taylor and a few other artists, President Obama lit the new National Christmas Tree Thursday night on the Ellipse in Washington, D.C., continuing 90 years of holiday tradition.
As The Fray took to the stage to sing "Santa Claus Is Coming to Town," lead singer Issac Slade asked the crowd if they've been good this year. "Most of the time, most of the time," the president was caught saying with a grin.
Jason sang an upbeat version of "Sleigh Ride." He also joined Colbie for a duet of "Baby, It's Cold Outside." Colbie performed "Silver Bells" solo.
The performers and the president later sang "Santa Claus Is Coming to Town" and "Jingle Bells" together.
Neil Patrick Harris hosted the annual ceremony, with an appearance from Modern Family star Rico Rodriguez .
During the event, the president -- joined by the first lady, their two daughters Sasha and Malia , and the first grandmother -- paid tribute to the "heroism and perseverance" of those affected by Hurricane Sandy.
You can watch the ceremony on demand at TheNationalTree.org .
Copyright 2012 ABC News Radio