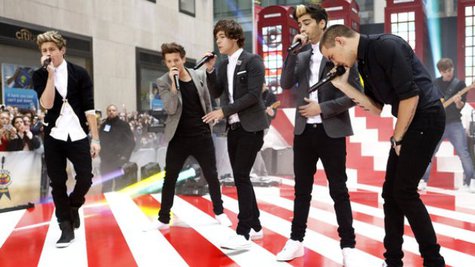 While One Direction fans are howling in protest over the group's lack of Grammy nominations, their mentor, Simon Cowell, says the lads aren't sweating it.
Asked by MTV if 1D was upset about the shut-out, Simon said, "No, you know what? You know what's more important? Fans, record sales, I've always said that. Maybe next year they'll get something."
"Trust me," Simon added. "They're not complaining." Why would they, with two #1 albums, a bunch of hit singles, a sold-out tour and an upcoming 3D movie?
One thing the group may be complaining about is the fact that a couple of them were evidently pulled over by a traffic cop in New York City earlier this week/last week. E! Online reports that on Wednesday, Louis Tomlinson got into a black SUV, stood with his upper body emerging from the sunroof and filmed himself as it rolled down the street.
As you can see in a YouTube video of the incident, the SUV was then pulled over. Two cops then talked to the vehicle's driver, and then to Louis and band mate Niall Horan in the back seat. Fortunately, the officers eventually let them go.
Copyright 2012 ABC News Radio