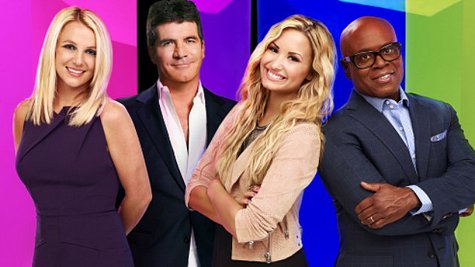 Two more singers were sent home during Thursday's live results edition of The X Factor . CeCe Frey , representing Demi Lovato 's Young Adults category, received the lowest amount of America's votes and was eliminated automatically. The vote leaves Demi with no more contestants to mentor.
Diamond White , representing Britney Spears ' Teens category, was also eliminated after losing a sing-off with Groups act Fifth Harmony , mentored by Simon Cowell .
The sing-off featured Fifth Harmony singing "Anytime You Need a Friend," by Mariah Carey , and Diamond White performing her version of Lee Ann Womack 's "I Hope You Dance."
After the performances, the judges had to decide which act would be leaving the show. Simon Cowell and L.A. Reid voted to send Diamond home. Britney voted to eliminate Fifth Harmony. Demi Lovato cast the deciding vote and chose to end Diamond's time on the show.
Ke$ha made a guest appearance for the world television premiere performance of "C'Mon" from her new album Warrior . Season One winner, Melanie Amaro returned to the stage to sing her new single, "Long Distance"
The semifinalists are:
Groups/Simon Cowell: Emblem3 , Fifth Harmony
Teens/Britney Spears: Cary Rose Sonenclar
Over 25s/L.A. Reid: Tate Stevens
The X Factor returns to FOX on Wednesday at 8:00 p.m. Eastern time.
Copyright 2012 ABC News Radio