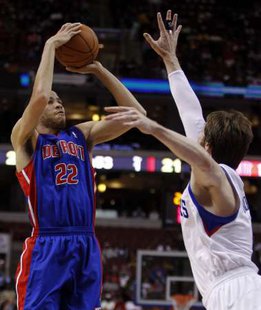 DETROIT (WKZO) - The Detroit Pistons welcomed a Chicago Bulls team to The Palace of Auburn Hills that was weakened by the loss of former MVP Derrick Rose, who underwent knee surgery prior to the start of the season.
Forward Joakim Noah made up for Rose's absense, though, and the Bulls topped the Pistons 108-104 on Friday.
Noah led all scorers with 30 points in the win. All five of Chicago's starters scored in double figures. Noah's scoring--a career high--was nearly matched by his 23 rebounds, which also mark a career high for the former Florida Gators star.
Pistons guard Rodney Stuckey led the team with 24 points off the bench, while guard Brandon Knight added another 21 in a losing effort.
The loss drops the Pistons to 6-15 on the season, while Chicago moves to 8-10.