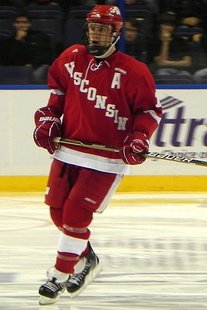 MADISON, WI (WSAU) A three-goal explosion in the second quarter powered the Wisconsin women's hockey team to a 3-1 win over North Dakota and a sweep of the weekend series.
The Badgers trail Ohio State by one point for second place in the WCHA. Wisconsin's record stands at 12-6-2 overall.
Courtney Burke broke a scoreless tie with a power-play goal at 5:21 of the second period. Two minutes later, Madison Packer doubled the lead, then Brianna Decker scored her second short-handed goal of the season to make it 3-0.
Alex Rigsby stopped 26 shots in goal, allowing only a power-play score. Wisconsin killed six of seven power-play chances.
The Badgers are off until January 4th when they host the Minnesota Whitecaps in an exhibition game. Ohio State comes visiting the next weekend.