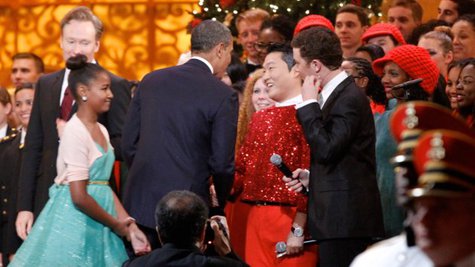 After a huge kerfuffle erupted Friday over some reportedly anti-American lyrics that he'd rapped at a 2004 protest concert in South Korea, PSY would have understood if he'd been kicked off the bill at Sunday night's taping of Christmas in Washington , at which President Obama was a spectator. But the rapper still took the stage, and even shook the president's hand, reports The Washington Post.
The paper reports that PSY came onstage crooning "The Christmas Song," but then kicked into "Gangnam Style," changing the lyrics to "Christmas Style." At the end of the taping, President Obama came onstage and, while he didn't mention PSY by name, he clasped his hand.
Prior to the taping, PSY had issued a lengthy apology, in which he explained that the lyrics were inspired by outrage against the U.S. military presence in his country during that time. He told the Washington Post , "There was huge sorrow all over the country. Explain and express about the sorrow . . . I thought that's kind of part of my job . . . But the specific words that I used, it was too much."
After that performance, PSY points out that he's a changed man -- he's served in the South Korean military and is the married father of twin girls. "If it's gonna hurt my career or not, that's not important," the rapper told The Post . "The most important thing is that as a human being, I really, fully regret the using of [those] kinds of words."
Copyright 2012 ABC News Radio