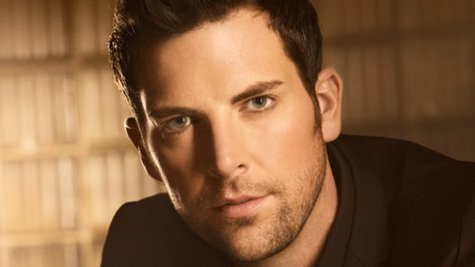 Chris Mann , who was the last man standing on Team Christina on season two of The Voice , returns to the show tonight, along with fellow former contestants RaeLynn and Juliet Simms . It's the latest high profile gig for Chris, who sang on the NBC special Christmas in Rockefeller Center, and also taped TNT's Christmas in Washington this past weekend. On tonight's show, Chris will sing the title track of his debut album, Roads . He also has a Christmas EP available at Walmart.
Chris says it makes him nervous to return to the show, explaining to ABC News Radio, "Just to think about what they're going through and how I went through that...I really pinch myself that I got as far as I did because it seems so impossible now, watching other people do it. To even advance at all seems like such a feat."
Asked why his coach, Christina Aguilera , hasn't been able to pull out a win in the show's three seasons, Chris blames the strategy of the other coaches. "I think that some of the other coaches...like Blake [ Shelton ]...I think he's a little sneaky," Chris says, adding, "He has a huge audience at his disposal, and he's not afraid to use it."
According to Chris, Blake is successful because he intentionally picks songs for his artists that he knows will result in the most votes for them, rather than focusing just on artistry. "You know, he picks song that are gonna resonate with his audience, with his fans: they're really contemporary, they tend to be country, and...that's smart," Chris says. "So, you gotta give it to him but it's certainly, like, kind of a snide technique."
But for Chris' money, you can't beat Christina when it comes to actually showing contestants how to sing better. "I trust her more than the other coaches because she truly is the vocalist of the group and has a huge track record to show that she's the singer," says Chris. "So, if there's anyone that can teach you more about performing and singing and belting, all that stuff, it's her."
Christina joins Chris for a duet on his album Roads -- the two sing the song "The Blower's Daughter," by singer-songwriter Damien Rice .
Another thing that Chris has observed during season three is that he sure wishes some of the changes they made to the rules had been around for his season -- like increasing the votes for a contestant based on how their songs do on iTunes.
"Well, yeah, that's lucky for those artists, isn't it? 'Cause I see them all over the charts and I'm like, 'Dang it!'" he laughs. "I think it's really smart. I think it's really cool and, of course, the steal. During my season, we definitely had situations where that influenced that coming to be in season three. So, it's important, I think."
Copyright 2012 ABC News Radio