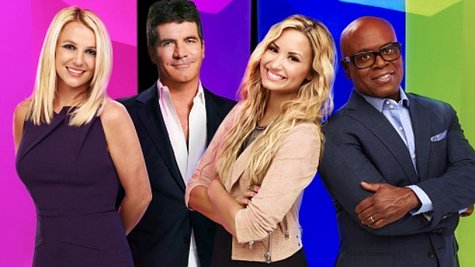 Wednesday night's edition of The X Factor featured the final four acts singing for a place in next week's finals.
Artists representing mentors Simon Cowell , Britney Spears and L.A. Reid , each performed twice in the hope of securing enough of America's votes to remain in the contest. Demi Lovato has no members left on her Young Adults team, but is still present at the judges' table.
This week, viewers have total control over the fate of the contestants. There will be no judges' decision and no chance for a sing-off. On Thursday night's results show, the final three selected to move on to next week's finals will be revealed.
Here's a rundown of Wednesday night's performances:
Groups/Simon Cowell:
-- Emblem3 have been receiving mixed reviews from the judges and have yet to top the weekly leader board. Two members of the band, Wesley and Keaton , are brothers and they were treated to a video chat with their sister, who offered encouragement. The group sang "Baby I Love Your Way," by Peter Frampton . L.A. called the boys fortunate for being charismatic and charming. He thought he just witnessed Emblem3's $5 million "moment." Britney called them "more than a boy band." Demi thought they'd found themselves at last.
-- For their second appearance on stage, Emblem3 sang The Beatles ' "Hey Jude." L.A. called them "teen heartthrobs." Britney said it was "an A–Level performance." Demi could see the potential for them being stars.
-- Fifth Harmony wound up in the bottom two last week. Simon called them during rehearsal to give a pep talk, and they put extra effort into their choreography and harmonies. The girls chose to sing Ellie Goulding 's "Anything Could Happen." L.A. said the performance was their best vocal outing. Britney loved "everything" about it. Demi loved the fairytale princess outfits.
-- The all-girl group revisited a song they performed during the "judges' homes" round of the contest. They sang a version of "Impossible," by Shontelle , including verses in Spanish. L.A. thought the song choice was "a little bit lazy," and it wasn't "a finals caliber performance." Britney said it was "stiff" and she would be surprised if Fifth Harmony would be in the final. Demi said it was all down to the fans.
Teens/Britney Spears:
-- Carly Rose Sonenclar is the youngest contestant at just 13 years old. She was sad to see her friend Diamond White exit the show last week. Carly chose to sing Elton John 's "Your Song," and dedicated it to her father. L.A. called the song choice "risky," but Carly did things with it he'd never heard before. Demi thought the performance was predictable, being another in a line of ballads, but said it was still a good performance. Simon called it "a beautiful version of a fantastic song."
-- Britney promised a whole new side to Carly for her second song. Playing the piano for the first time, she sang John Lennon 's "Imagine." L.A. said Carly increased her artistic credibility. Demi called the performance "amazing." Simon thought the arrangement was "fussy," and that Carly put in too many big dramatic notes.
Over 25's/L.A. Reid:
-- L.A. donned a cowboy hat to introduce Tate Stevens , the only true country singer remaining in the contest. Tate chose to sing "Bonfire," by Craig Morgan . Britney said she's didn't think it was Tate's best performance. Demi completely disagreed and called the song a "winning performance." Simon liked the choice of song and said it was the record Tate could make.
-- For his second song, Tate performed Clay Walker 's "Fall." Tate and his wife celebrated their fifteenth wedding anniversary during rehearsal week. Britney called the performance a "direct hit." Demi said Tate's wife must be "the luckiest girl in the world." Simon told Tate that he should make the final and would have a music career, regardless.
The X Factor returns to Fox on Thursday at 8:00 p.m. Eastern time.
Copyright 2012 ABC News Radio