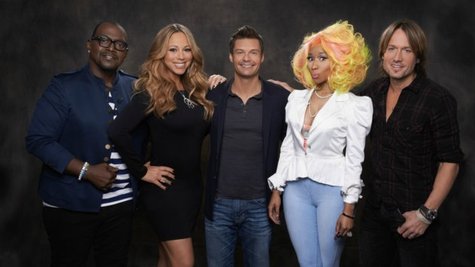 Back when Mariah Carey first got into the game, there were no music reality shows around to help her get her big break. But the American Idol judge says even if there were, she wouldn't necessarily have wanted to try out for one.
According to The Hollywood Reporter , Mariah told reporters while on a break from taping American Idol's new season that she's "glad" she didn't "do a show like this" back in the day. "I would've hated it!" she says of the experience of being judged.
She added, "I learned on stage how to perform, and what I realized is the best advice for [the contestants] is to just be themselves, because that's what really sells now." Describing her judging style, Mariah says she thinks of herself as "more of a fairy godmother" than a judge. She explains, "I try to speak frankly but as kind as possible. But not sugar-coating ... that won't do anyone any good."
Mariah also admits that she "had my own kind of reservations" about whether or not she should even join the Idol team. "I didn't know how I would adapt to this situation," she says. But her husband Nick Cannon convinced her to do it and now, she says, "It's great to be here."
But what about that much-hyped feud with fellow judge Nicki Minaj ? According to People magazine, at the same event, Nicki told reporters that it's all good now. "We've jelled really, really well as a group," the rapper claimed. "We have a great chemistry. We have a great rhythm now together, and we really are taking it serious."
Mariah, however, doesn't seem to agree with the whole "great chemistry" thing. People reports that when she was asked what Nicki brings to the show, she smiled and said, "You know, I wouldn't feel comfortable commenting on that. But thank you for the question."
Copyright 2012 ABC News Radio