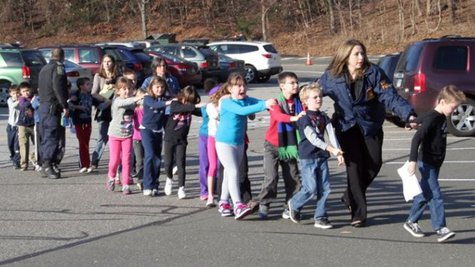 Top music stars are among those reacting with horror via Twitter to the news that more than 27 people, mostly elementary school children, were shot and killed by a gunman at a Newtown, Connecticut, school this morning. Here's a look at what they had to say:
Rihanna -- God have mercy!!!! No one deserves this! Praying for the families of the victims of the Connecticut shooting!! What a Christmas it will be
Jordin Sparks -- Those precious children...I will never understand the evil in this world. On my knees praying for those families. I am in tears.
OneRepublic -- Our hearts and prayers go out to the families, kids and teachers at the Connecticut school shooting - this insanity, this EVIL has to end
Neon Trees ' Tyler Glenn -- Absolutely crushed, in my heart, reading these school shooting reports. Crushed at the death of so many kids in such a heinous way no less.
Josh Groban -- Oh my lord. Just turned on the news, I've been on a technology free bike ride. My heart is crushed with the news of this shooting.
Demi Lovato ( demetria lovato) -- My heart is absolutely broken after hearing about the shooting at Sandy Hook Elementary school.. Wow.. So terrible.
Kings of Leon 's Nathan Followill -- Just saw the tragic news about the school shooting. As a soon to be father this is tragic. My thoughts & prayers are with the families. # sad
Kevin Jonas -- To everyone involved in the shooting Connecticut our thoughts and prayers are with you this is truly a tragedy.
Andy Grammer -- Really upset to hear about Newtown... Love and prayers for everyone suffering
Ellie Goulding -- Man I can't even comprehend the shooting in Connecticut, it's just the saddest thing... So hard to understand
Lady Antebellum -- Our thoughts and prayers go out to all the families and everyone affected in Connecticut. # newtown
Jay Sean -- just heard about the tragic incident in Connecticut. it makes me ill to think there are such sick minded people that we have to live amongst.
Copyright 2012 ABC News Radio